TreeWorld Wholesale - Tree Nursery
OUR BESTSELLERS
Bayrum Tree

Pimenta Racemosa

Brazil Beautyleaf

Calophyllum Brasiliense

Leopard Tree

Caesalpinia Ferrea

Bridalveil Tree

Caesalpinia Granadillo

Banyan Tree

Ficus Benghalensis

Pitch Apple Tree

Clusia Rosea

Simpson Stopper

Myrcianthes Fragans

Tree of Life

Guaicum Officinale
Bayrum Tree Bush

Pimenta Racemsa

Jamaican Caper Bush

Capparis Cynophalophora

Cinnamon Bark Bush

Canella Winterana

Crabwood Tree

Gymanthes Lucida

Mangosteen Tree

Garcinia Spicata

Native Lignum Vitae

Guaiacum Sanctum

Madagascar OIive Tree

Norohnia Emarginata

Red Stopper

Eugenia Rhombea
Get all your South Florida and Caribbean palm tree needs met at our place
TreeWorld Wholesale grows and sells all of the Florida native palms under cultivation as well as a large number of the more than 2,000 species of palms from around the world. Whether your landscaping project needs a large specimen palm or several smaller palms, you can get them here.
Thrinax radiata (Thatch Palm)

Serenoa repens (Saw palmetto)

Rhapis excelsa (Lady Palm)

Ravenala madagascariensis (Travelers palm )

Pseudophoenix Sargentii (Buccaneer Palm)

Leucothrinax Morrisii (Keys Thatch Palm)

Hyophorbe Verschaffeltii (Spindle Palm)

Hyophorbe Lagenicaulis (Bottle Palm)
About Us
Wholesale trees in Florida near you
TreeWorld Wholesale is a high-quality wholesale treefarm nursery located in Homestead, Florida, covering over 150 acres of carefully cultivated land. The nursery specializes in providing a wide range of trees that have been handpicked to flourish in the tropical and subtropical climates of South Florida and the Caribbean. All trees have been carefully nurtured from their earliest stages, to offer exceptional specimens.
With over 20 years of experience,TreeWorld Wholesale is highly regarded by tree enthusiasts, botanists, landscape architects, and homeowners for its exceptional tree specimens, quality service, and sustainability practices.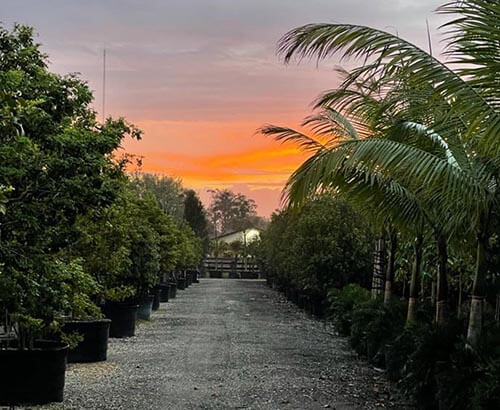 TreeWorld Wholesale – Tree nursery with a wide selection of trees
Looking for trees, shrubs, and palms for South Florida and the Caribbean?
Welcome to Your South Florida and Caribbean Tree, Shrub, and Palm Headquarters!
Treeworld Wholesale – the Florida tree nursery offers a selection of over 300 trees, shrubs, and palms, both native and non-native trees, that include a wide range of categories such as floral, exotic, shade, and fragrant trees. Ready to be set up as focal points and a great assortment to build privacy hedges and windbreaks in the area. Guaranteeing a diverse range of options to choose from for any upcoming landscape project.
We have hundreds of species of trees in our South Florida tree farm. Several of these are suitable for the Caribbean as well. Continued research efforts show us what species of trees, and in what size, will be needed in the future. We then plant more of those trees so they will be available to you when you need them
GREAT SEEDS

We grow sustainable, native and non-native seeds at our own nursery.

SPECIES

Variety of species to choose from. Ideal for South Florida and the Caribbean.

FOR ANY LOCATION

We grow trees perfect for any location. Homes, commercial buildings, parks and more.

READY TO HELP YOU

Our great team will be ready to help you whenever you need it. Just a call away.
SEEDS


Sustainable seeds

Growing out seed sustainably collected from the wild means you can find almost any species of South Florida native tree you need at our nursery. We also grow non-native species that are in great demand. Our trees are grown for home landscapes, parks, commercial buildings, or any where else that needs a tree to complete it.
REQUEST A QUOTE


We're glad to help

We provide an exhaustive list of the trees we carry for you to examine. You can then fill out a request for a quote and one of our sales team will contact you to discuss your needs.
Latest Blog
The True Value of a Tree: Battling Climate Change Amid Rising Costs

Best Low Maintenance Hedges

Creating a sustainable landscape

Adding color to your landscape design!
Treeworld is a legend in South Florida, a landscape designer's dream, a magical place that is not only educational but a true wonder. I recommend anyone who is passionate about trees, specially flowering trees to visit. We have created many designs with trees and plants from here of the highest quality. We are grateful for their expertise and knowledge - Aida Miron
-Aida Miron
When my project and clients demand perfection I select trees from Treeworld wholesale. The quality, selection, and availability is unsurpassed. The final outcome of my work is based on the materials that I use. They have also helped me by taking the time to make alternative tree suggestions, as well as providing valuable horticultural information.I have had the opportunity to visit plant nurseries on the entire East coast of the United States. I have to say that TreeWorld is one of the most impressive operations that I have seen. - Matthew Giampietro
-Matthew Giampietro
Tree world is a tremendous resource both for finding the most beautiful species of South Florida sub tropical and tropical trees and plants , as well as an educational tool for professionals and plant lovers. Their plant material is simply beautiful and there is so much knowledge available and shared . Also the actual nursery is a world of its own, vibrant and thriving with infinite beauty. Every visit is a never ending learning experience. - Ana Miron
-Ana Miron
If you want the largest selection of trees in Florida and perhaps the country, give Treeworld a call. Their material is all Fl#1 or better and the service is on spot. We, South Coast Grower, have been purchasing material from Treeworld for over 20 years. - Jon Bachmann (South Coast Growers)
-Jon Bachmann
The best Bridalveils in town!
-J Franco
Found everything I needed in one place! Attention was great and they help me solve several doubts I had about my project.
-Nicolas
These guys are great, and they know their stuff!
-Francisco Martinez
As a property manager for commercial and residential locations in South FL, it is my job to find quality trees for our properties. The owner of Tree world is an expert in his field. He's honest and has extensive knowledge related to plant physiology and agricultural botany. He is truly passionate about his trees and I can only classify them as art specimens and second to none. When you visit his tree fields you will see the quality of his inventory. I waited 10 months to write this review after purchasing several ligustrum trees and Phoenix sylvestris. I wanted to make sure to provide facts after purchase. My purchase was made directly with the owner. He took his time in answering all of my questions and explained how to care for each tree after transplant. Carlos, his backhoe sub did a great job with transferring and planting. The trees remain healthy, secure, strong and beautiful as they did in the fields. I went back to purchase a few for my personal residence! Tree world is honest, owner and staff are hardworking and its an overall quality organization. Thank you for your professionalism, attention to detail and excellent service you provide!
-Life, Liberty and the pursuit of Happiness
Great variety of plants and the staff is awesome. Anyone looking for great customer service should definitely look here. Ask for sally. She was great and helped us with everything. - Jorge Rodriguez
-Jorge Rodriguez