When you're in the market for a privacy hedge here in South Florida, there are a couple of things to consider. For example: the density of the foliage, the growth rate, their size and of course the amount of water that they will require. Furthermore, the choice should also consider the aesthetics of the hedge that best suits your garden.
But before we dive deep into the attributes of a specific privacy hedge. We should first understand what it means to have a privacy hedge in your yard. As they are not only to define property guidelines, but they also help enhance architecture. Furthermore, they provide an ideal bird habitat, highlight paths and walkaways and reduce noise and dust pollution.
What to look for in a privacy hedge?
So, what is the basics when you're choosing a privacy hedge for your home? First of all, density is a big quality to have in mind, as it is important to create a good sturdy hedge to block out unwanted views. Also, consider height, it is important to choose wisely.As you need to decide if you want privacy for the second story windows of your house or just something lighter. Finally, an although it's not a must, it is a recommendation for the privacy hedge to be evergreen as it will provide a solid year-round protection.
Callophyllum Brasiliensis vs Pimenta Racemosa
With what was said in mind, we've decided at TreeWorld to compare two of our top choices for the matter. The Callophyllum has been utilized much more in the last 25 years; but the incoming Bayrum is already moving to the top at extremely fast pace.
Pimenta Racemosa (Bayrum Tree)
The first runner up is Pimenta Racemosa (Bayrum) which although is not a usual privacy hedge, it has become a fairly popular for this application over these past few years. This Caribbean native, of moderate growth rate is  strong, and wind-resistant; besides this tree has few pests which makes it a top choice for any garden. Moreover, it is highly aromatic, permeating the outdoor with a distinct sweet and spicy note once leaves are crushed. Foliage is also breathtaking is a big bonus for this evergreen. As, leaves are dark green, leathery, glossy above dull below, entire, obovate in shape. Showing off a smooth grayish to light brown bark, which peels off to reveal pinkish under bark.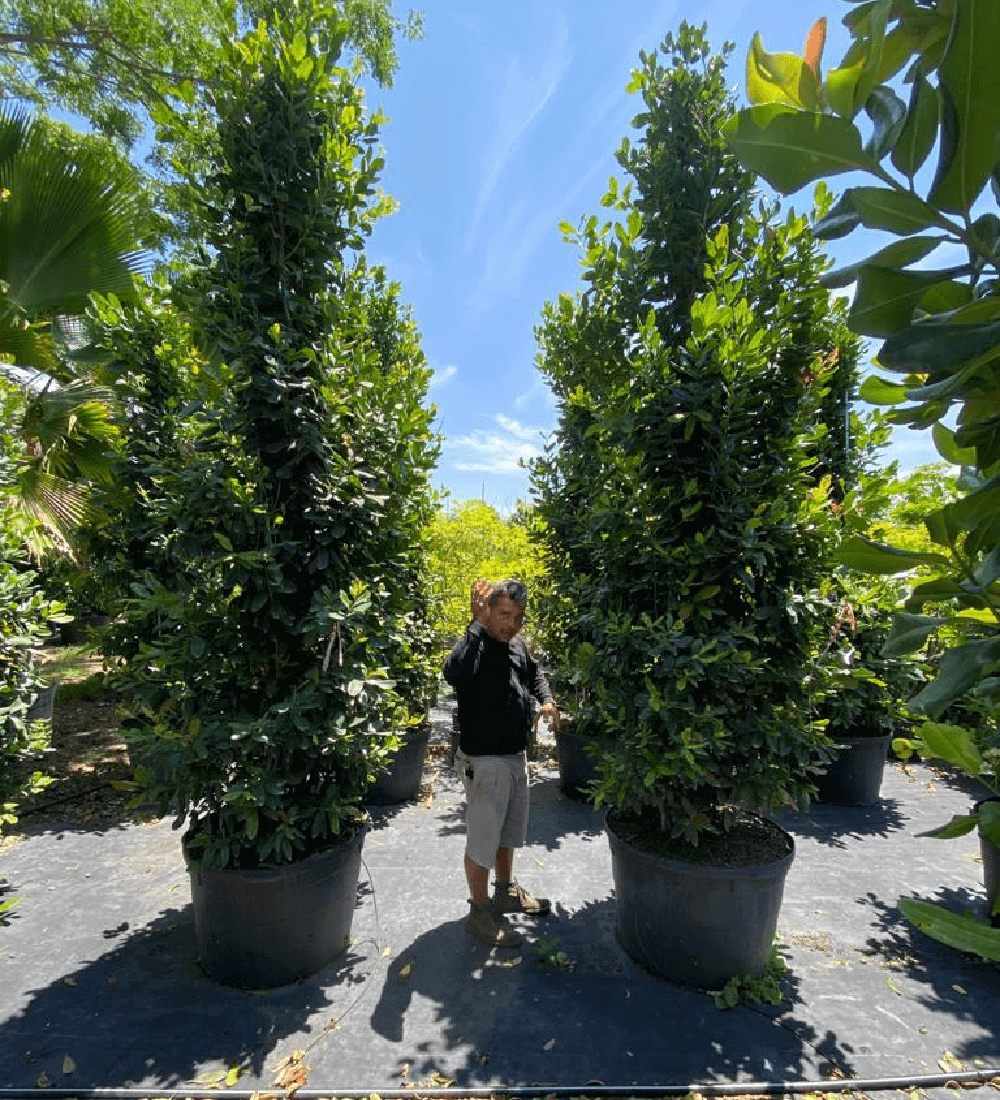 You might say that the only downside or maybe in some cases a "plus" of the Bayrum for a privacy hedge is its slender columnar growth habit; that does not take up a lot of space. Reason why to make a dense hedge you will need more of them.
Callophyllum Brasiliensis (Brazil Beautyleaf)
Our second contestant, is the South American native Calophyllum Brasiliensis (Brazil Beautyleaf) that different from the Pimenta Racemosa (Bayrum) has a dense rounded crown, covering a lot more space. It also displays a thick dark maroon to brownish bark, with thin furrows, and peels off in small rectangular flakes. Exuding an aromatic scent naturally but not as strong as the bay rum. Also, they may be some appearance of sticky yellowish latex. Foliage is sturdy and dark green with a paler leaf below. The Calophyllum Brasiliensis (Brazil Beautyleaf) grows well in nature and in wet humid sites. But in cultivation also on sandy, limestone soils. It's also considered perfect addition as privacy hedge thanks to its attractive evergreen foliage and showy flowers.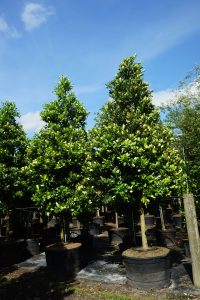 Difficult here to say which one is the winner, here at the tree farm they are both considered winners. Moreover, you can blend both of them for a hedge that will look fantastic.  In essence, it all depends on your needs for the privacy hedge. If you have any further questions or are considering any other species for your yard, please do not hesitate to contact us!