Most of the time we get caught up in the moment and almost without even realizing it, everything changes. 
Here in South Florida  all of the sudden the hot summer nights begin to cool down, and some of our trees lose their leaves as a prelude to one of the most beautiful times of the year. And even though in South Florida we don't get a feel of all seasons like in other states it does announce the end of summer and the beginning of autumn. The flowering season for some of our deciduous trees. Including the Indian native the Hong Kong Orchid tree.
Deciduous Trees
And in  our benefit, we have deciduous trees and is not that we don't love our evergreen trees. But deciduous which means "falling of maturity" makes a clear reference to how they shed leaves, change, evolve and put on a genuine show. As most of these trees around this time of the year commence their flowering period leaving us, the spectators, in a state of awe.
The Bauhinia X Blakeana or Hong Kong Orchid tree as its commonly referred to, is no stranger to this feeling. The tree grows to an average height of 30 feet and features a  spread of around 25 feet; almost as wide as its height. The dense crown is somewhat round and irregular reflecting those characteristics in the general shape of the tree. It features a smooth gray bark with long droopy branches that add to its unique silhouette and grow into a round large canopy.
Bauhinia X Blakeana (Hong Kong Orchid Tree)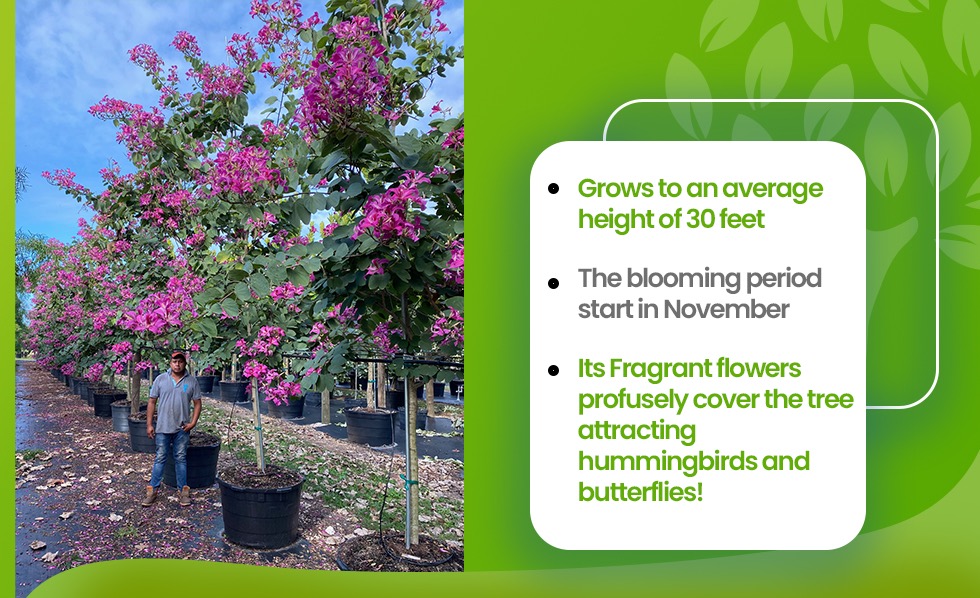 Further on the foliage is completely alluring itself as the large green to big gray leaves tend to form hearts or butterflies it depends on the beholder's eye.  They are bilobate in shape and measure around 3 to 4 inches (10.16 cm) wide and 4 to 5 inches long (12.7 cm). During their early stages, leaves are glossy-light green and are borne on the branch's ends. 
But what really takes our breath away is the show it puts on every time it starts to bloom. Since its large and showy flowers begin to fill its branches in a distinctive and attractive manner. And exotic orchid-like flowers full of that magenta color and white veins that seem as if they have been carefully carved in on all 5 of the petals. While the also white stamens delicately bent over as they stick out. Fragrant flowers profusely cover the tree attracting hummingbirds and butterflies!
Landscape Application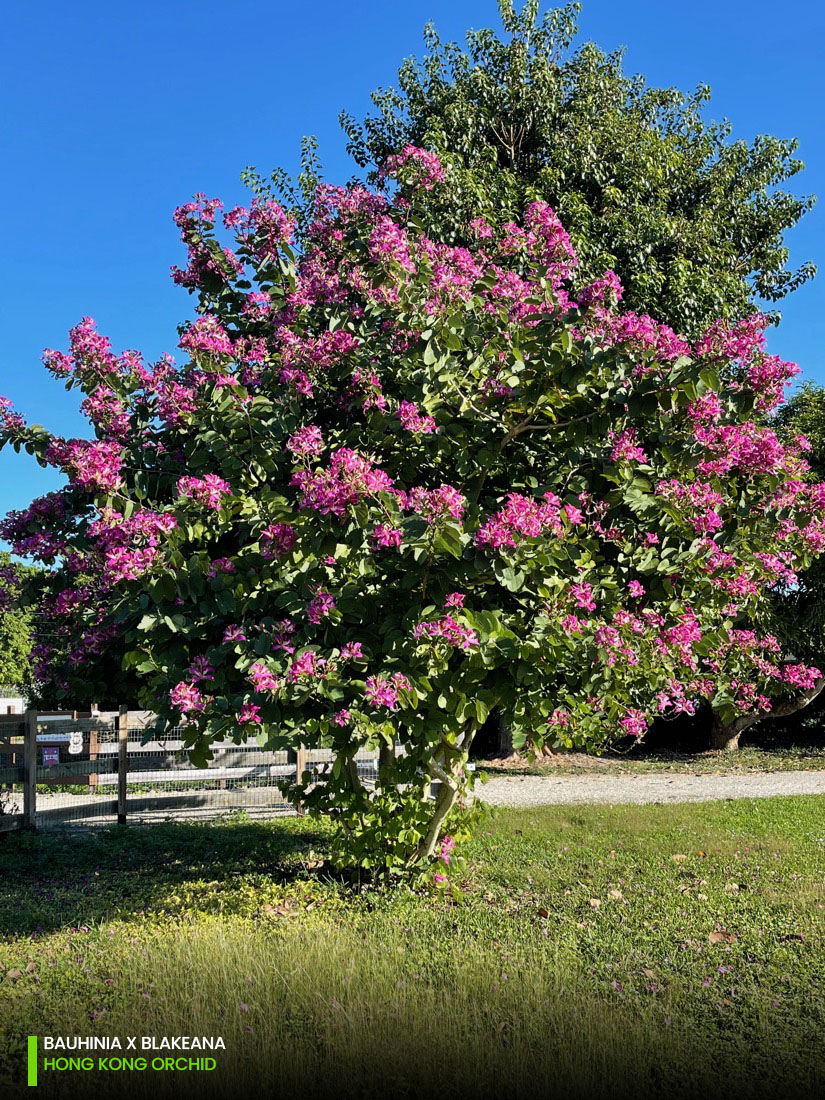 The timing is perfect for the Bauhinia X Blakeana, as it blooms when many other plants aren't and can light up the entire landscape. The blooming period commences in November and in many cases lasts up to the end of spring.  
The Hong Kong Orchid  Tree is an ideal ornamental tree. Due to its size and growth habit, we highly recommend planting it in large to medium size properties as an accent tree or single specimen. And, due to its large spreading canopy, it acts as a good shade tree. 
Furthermore, it has a fast growth rate, as it grows around 24 inches per year. Making the Bauhinia X Blakeana a great privacy plant.
Although it also works well as a street tree or parking lot tree; and because the tree is sterile and produces no fruits or seedpods; reducing considerably the litter problem and making it  more desirable than other Bauhinias. 
But either if you install Bauhinia on your lawn or the patio, the Hong Kong Orchid Tree will make a great addition to your South Florida garden! If you have an upcoming project the Bauhinia X Blakeana is a great tree to consider. Not only, it is beautiful, it also loves the Florida sun; performing best in zones 10 and warmer areas of Zone 9B.
TreeWorld Availability:
At TreeWorld Wholesale, you'll find the Bauhinia x blakeana starting from 25 gallons up to 200 gallons. If you need further information on our sizes download our tree specification chart for approximate height and spread.
A selection of Bauhinias:
But, if your heart is not set on the Hong Kong Orchid tree and you might want to consider options of the same family. You can always check our tree farm where you can find the: shiny Red Bauhinia (Bauhinia Galpinii), the pure White Orchid tree (Bauhinia Variegata Candid), and the creamy yellow St Thomas tree (Bauhinia Tomentosa).
And under same lines, some of the deciduous trees in our portfolio you might be interested in. Including the Floss Silk tree (Chorisia Speciosa), Red-Silk Cotton Tree (Bombax Ceiba), False Bombax (Pseudobombax Ellipticum) among other options. 
Contact us!
At TreeWorld we are ready to guide you on your upcoming landscape project. Contact us @ (305) 968-2427 and check our availability so you can enjoy our tree of the month!