Bayrum tree!!! Or Pimenta racemosa as it is formally known, is one of the products our clients ask most frequently about.
Every time we get visitors, we always go over our full portfolio at TreeWorld to access their neeeds, no matter if they are direct customer, a landscape architect, construction agency, or an urban planner development. As we know that every project needs special attention and guidance for the plant material to succeed. But we also have to acknowledge that one of our trending trees is the baryrum tree which has stolen quite a lot of attention over this last season.
And this mostly because the Bayrum tree, has become a versatile element when it comes to landscape design. Especially in south Florida, where it is considered highly ornamental with its peeling trunk and aromatic leaves; that expels a refreshing citrusy aroma once crushed.
The handsome stiff leathery leaves  that bear fragrant, delicate and fluffy white flowers, and small berrylike inedible fruit. Furthermore this evergreen tree of a moderate growth rate adapts easily to full sun to partial shade and has medium drought and salt tolerance.
So at TreeWorld we've decided to summarize some of our most frequent questions of this best seller for you:
1. Is the Bayrum tree (Pimenta Racemosa) native to Florida?
No, is not a Florida native, but close enough. As, it is native to the Caribbean Basin. And although the exact limits are blurry the tree is endemic to Jamaica, Saint Kitts and Nevis, Saint Martin and other islands of the former Netherlands Antilles. And some areas of central America and the northern South America are part of their native range.
Due to its Caribbean nature where the climate and geographic conditions are quite similar to those of South Florida, the Bayrum tree has had a great reception.
2. What are the characteristics of Pimenta Racemosa?
Bayrum is a medium size tree, with an average height of around 12–36 feet tall. Although it can be taller under ideal conditions. It has upright branches and a dense, columnar crown. Paired along with a an attractive smooth grayish to light brown aromatic bark that peels off to reveal a pinkish underbark.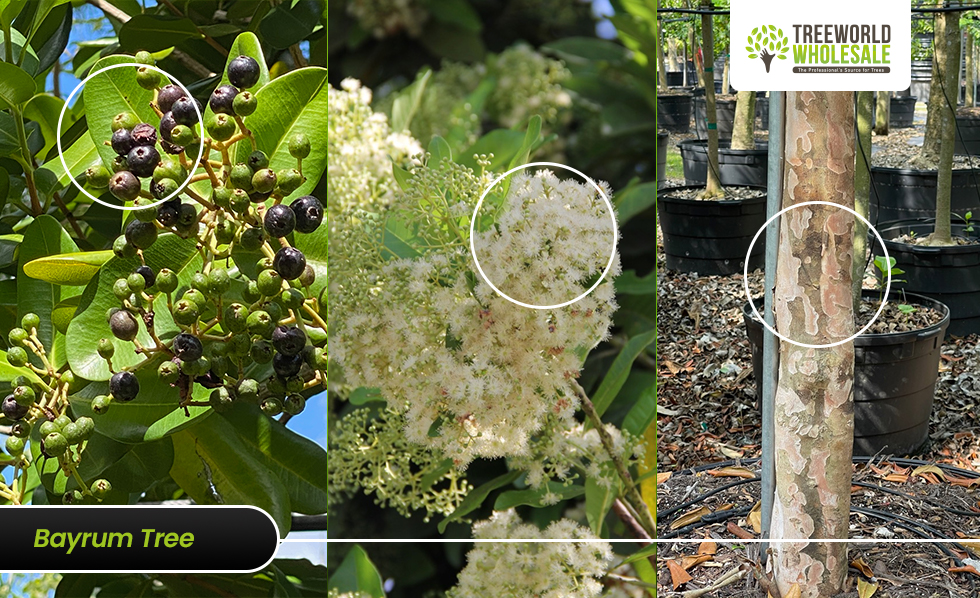 Leaves are dark green, leathery, glossy above dull below, entire, obovate in shape, 2–6 inches long; containing aromatic essential oils. Furthermore, flowers are white with many stamens, and fragrant as well. About 3/8 inch wide and borne in rounded clusters.
Finally, fruits are ovoid-shaped, black at maturity, and measure around 3/8–1/2 inch long. They contain 1–4 seeds that are used mainly for propagation. Due to its fragrance and similarity to Pimienta Dioca they are sometimes used as substitutes in the "All Spice" mix.
3. Can Pimenta Racemosa withstand hard-winds?
The Bayrum tree is strong, and wind-resistant, making the requirements of a perfect Florida shield.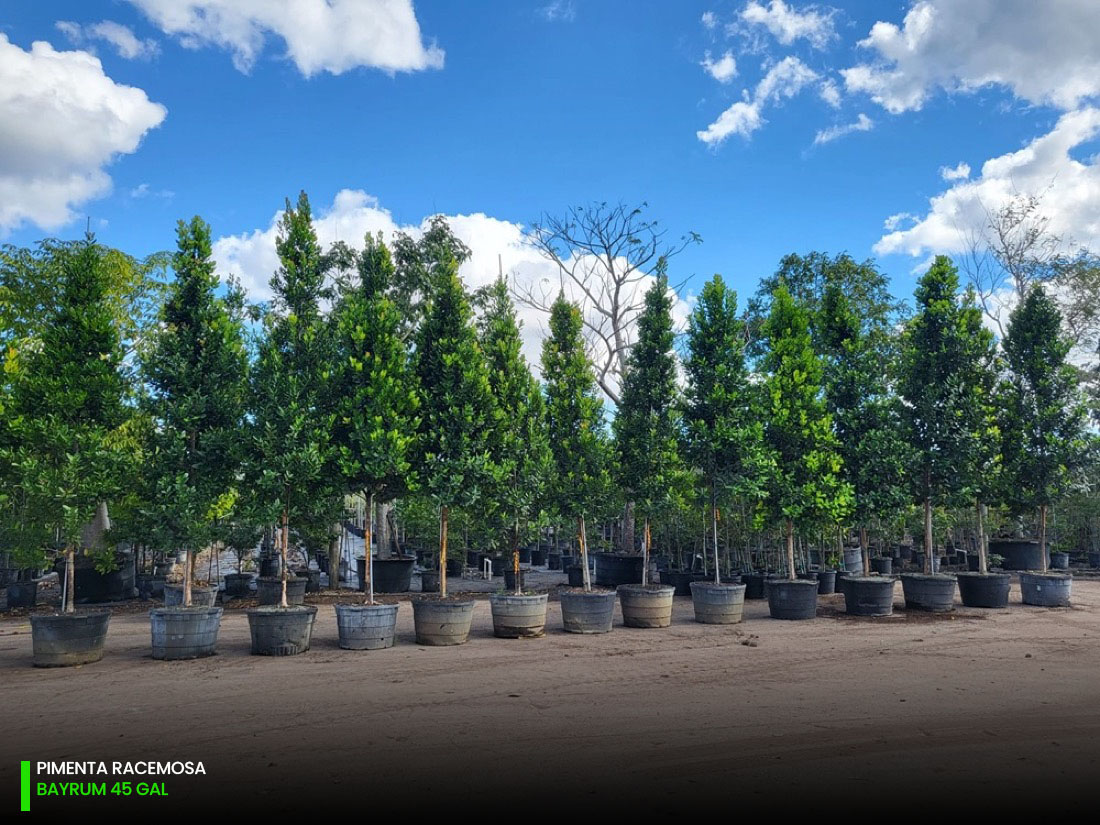 And if you're raffling your options on what tree will withstand best South Florida complex weather situation due to hurricane season. You must know a few things about the Bayrum tree. It has a good and strong root system that anchors a tree into the ground and keeps it from being easily uprooted. The tructure is both solid and flexible enough not to break on impact. Both good qualities to have if the tree facing hard winds. Finally the compact pyramidal form offers great resistance.
4. Does the bayrum tree makes a good hedge?
The pimenta racemosa is actually one of our top hedges! This evergreen has become a quite the element when it comes to building privacy hedges. Especially grown with multiple trunks and branching to the ground to achieve the most density.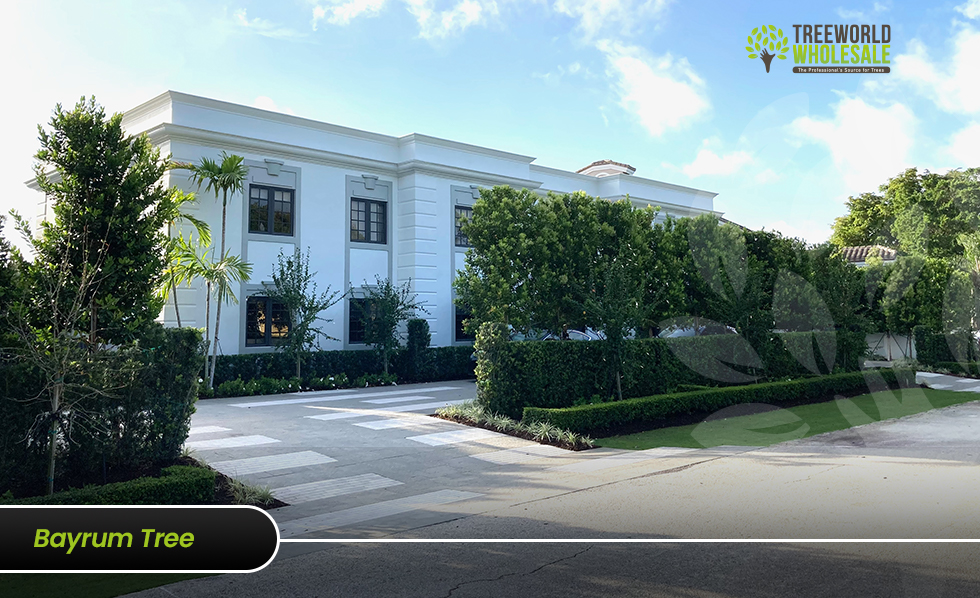 This tree not only meets the basic requirements, it exceeds them! Especially if you are planning for narrow spaces as its compact pryramidal formal will allow to provide privacy to those narrow corridors of which both protection and privacy are much needed. We are clearly talking about those social areas of the house that we want to keep private. Like the pool, the space adjoins the neighbor's house, the children's park, parking lots, etc.
And as for aesthetics goes the Bayrum tree has the full package: beautiful exfoliating trunk, leathery green leaves, fluffy white flowers and green-black berries
5. What are the most frequent Bayrum tree uses?
The bay rum's tree aromatic leaves and twigs are distilled to obtain aromatic oils used is in perfumery and in the preparation of the bay rum fragrance. Defined as a light, aromatic blend of exotic Caribbean spices, Jamaican rum and bay leaf oil from the West Indies. And what history tells us is that the sailors were the first to take advantage of its organoleptic properties. By soaking the leaves of the tree in rum to avoid the bad odors that accumulated on the high seas.
Nonetheless, the tree itself has countless landscape applications! As a backyard tree, street tree, open public spaces and recently in South Florida to create screens of natural privacy hedges; grown with multiple trunks and branching to the ground to achieve the most density.
6. What are the best growing conditions for the tree?
It grows best in fertile soil rich in organic matter. An prefers full sun exposure, although it tolerates some light shade. They are drought, frost and salt tolerant, but need to have good drainage. The recommended U.S. Department of Agriculture plant hardiness zones are 10 and 11.
7. How to take care of the tree?
If you are going to plant a new tree, keep in mind you will need more water during the warmer seasons. But keep in mind, if you put too much water you can suffocate the roots and they will rot. This will might also cause the tree to grow on the surface since they do not need to go underground to find water.
Remember that watering is important until its roots are abundant and it can have autonomy. A great way to make sure you have the necessary water is to inspect the soil about 5 centimeters down.
We also recommend to add 3 times a year landscape fertilizer (12-4-15). When you do so, prepare around the tree and do it gently to avoid damaging the trunk.
8. What other trees can I use along the Bayrum tree with?
One of the most trending practices now is to mix and match to have the best outcome. At TreeWorld we encourage you to think outside of the box. That is why we highly suggest building the perfect privacy hedge by using the structure and stiffness of the Bayrum and adding volume and space with the Calophyllum Brasiliensis. Besides, as they have different shades of green convergence.
Another tree that will compliment the beautiful Bayrum is the Cinnamon Bark (Canella Winterana) that adds volume and texture. Also the tiny red flowering habit that will definitely take the combo to a next level. Now, if you pair it with the Norohnia Emarginata they duo will become an excellent windbreak. And, you can also choose the natives Jamaican Caper (Capparis Cynaphalora) and Marlberry (Arsdisia Escallanoides) with their small flowers to highlight spaces and the myrtle of the river (Calyptranthes Zuzygium).
They are a lot of options if you are thinking of a specific tree let us know so we expand the subject further.
9. Other common names?
West Indian Laurel, Pimienta Dulce, Lemon Bayrum Tree, and Berrón.
10. What sizes do we grow a Bayrum tree at TreeWorld Wholesale?
At our tree farms we have Pimenta Racemosa multi-trunk and single trunk (std) starting at 25 gallons, 45 gallons, 65 gallons, 100 gallons, 200 gallons and 300 gallons. You can check out the full specifications chart on the following link.
Contact us!
If you need further product information or want to contact us regarding our portfolio you can email us at [email protected], schedule a visit at our headquarters 24605 SW 192 Ave Homestead, Fl 33031 or call us at 305-245-6886.
​​