Privacy hedges are a must when you're planning a new landscape design project in south Florida and the Caribbean. Here is a complete guide to our recommendations, and a couple of trends to look out for.
What we know and love about Privacy Hedges
Hedges can transform spaces they are one of the most important elements concerning design. A good screen or hedge serves many purposes and adds value to many different types of property.  Here in South Florida, we have many options to explore, and as we become aware that cities are growing larger and spaces becoming crowded. It is important to keep options open. Not only does each project's needs vary, but it is also important to recognize the environment and choose the correct tree material so that this element blends in perfectly.
First and foremost, we should expand ourselves on the importance of the element on its own. A privacy hedge, as its name states is a landscape design element with the ability to transform your garden or outside area into an oasis of peace. Blocking unwanted wanderers, but also significantly reducing noise and pollution.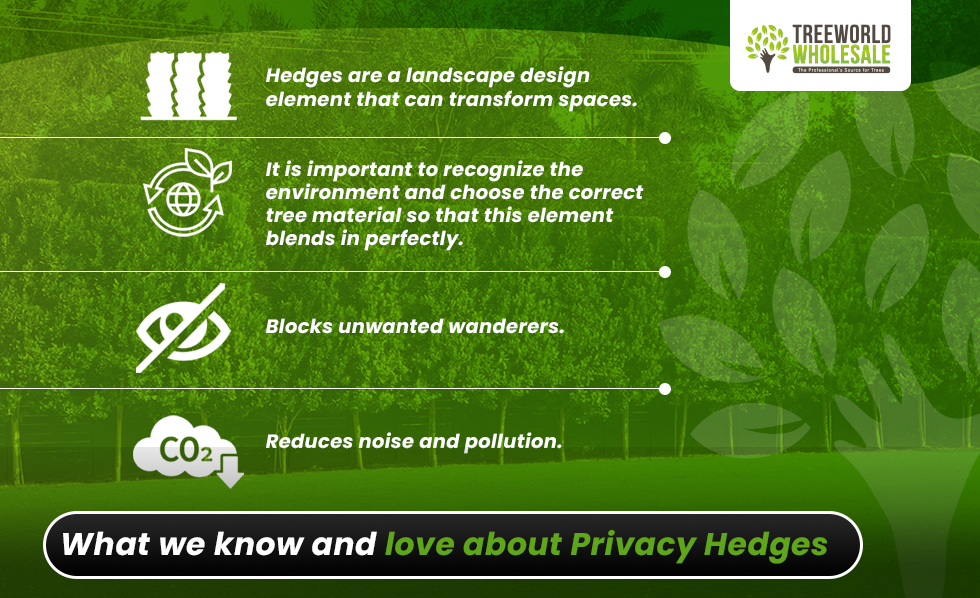 Picking a natural privacy hedge has a few considerations, keep in mind, that there is no one-size-fits-all. So,  choosing what is right for your landscape project you first need to break down the basics.
Naturally Evergreen
But something we do highly advocate for evergreens! As they will guarantee lush greenery and a year-round screen. Opposite to deciduous plants that will most likely shed leaves at some point of the year leaving space to the naked eye. Au contraire from the evergreen trees which avoid gaps and are mostly tightly branched. Ensuring objective of privacy year-round.
Some of our top choices are Calophllym Brasiliensis, the Bayrum tree, Simpson Stopper, and the stopper family (Eugenia Rhombea, Eugenia Axiliaris, eugenia foetida, etc.), the lovely canella winterana, and the Jamaican Caper among other choices.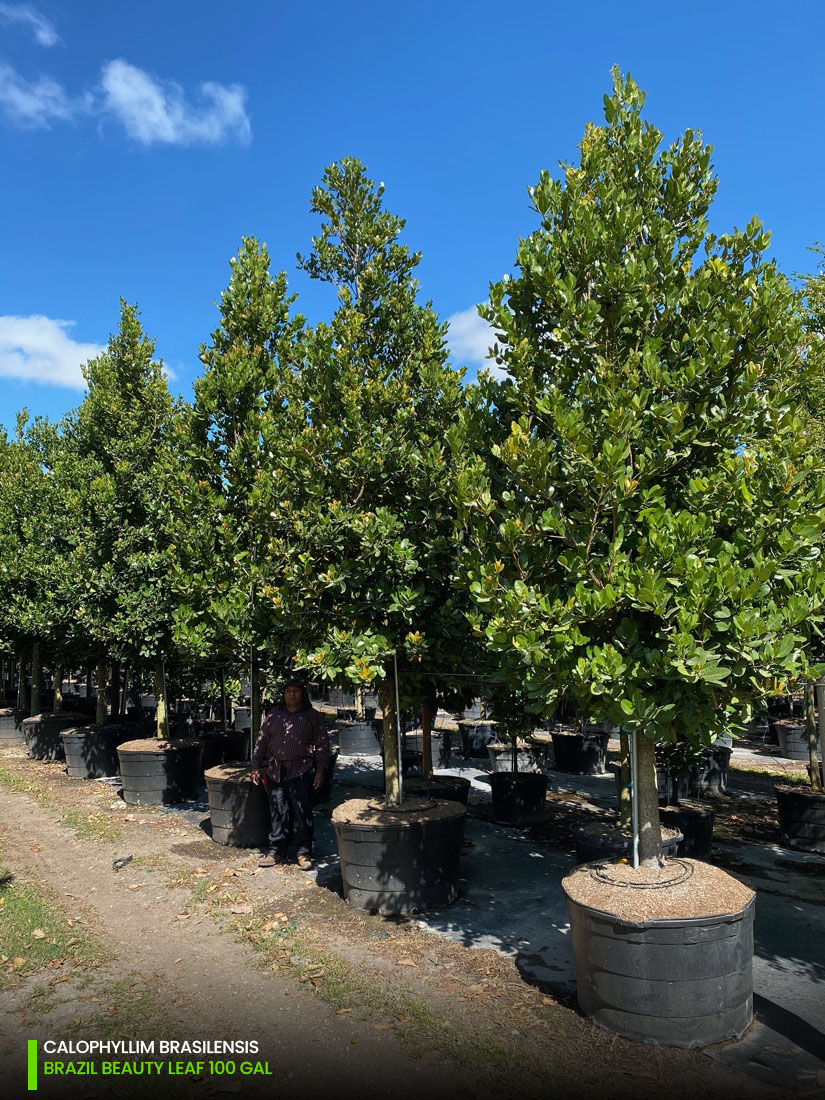 This or That: Privacy Hedges
Volume vs structure
It is important to know the outcome of what we want to know what to expect from the plant we are selecting. For example, they are plants such as the Bayrum Tree (Pimenta Racemosa) that add that green alluring lush green touch to our projects but have a columnar growth habit, making it a highly structural element for the design.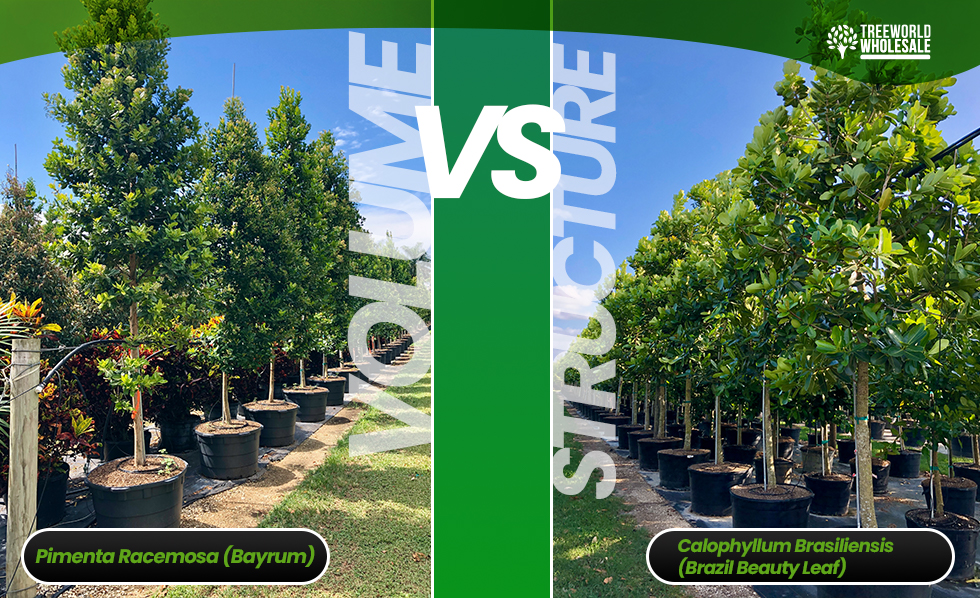 Bayrum Tree
The pimenta Racemosa best known as the Bayrum tree is a trending element when it comes to landscape design. Especially in south Florida as it is considered a highly ornamental peeling trunk tree with wonderfully aromatic leaves. That expels a refreshing citrusy aroma once crushed, hence the common name. Some say that it has it all! With white fragrant flowers, that are delicate and fluffy, which build up in the display of the small berry-like inedible fruit. That also produces cinnamon–a clove-like smell. And finally, but most importantly, a display of stiff leathery leaves that build-up and enviable foliage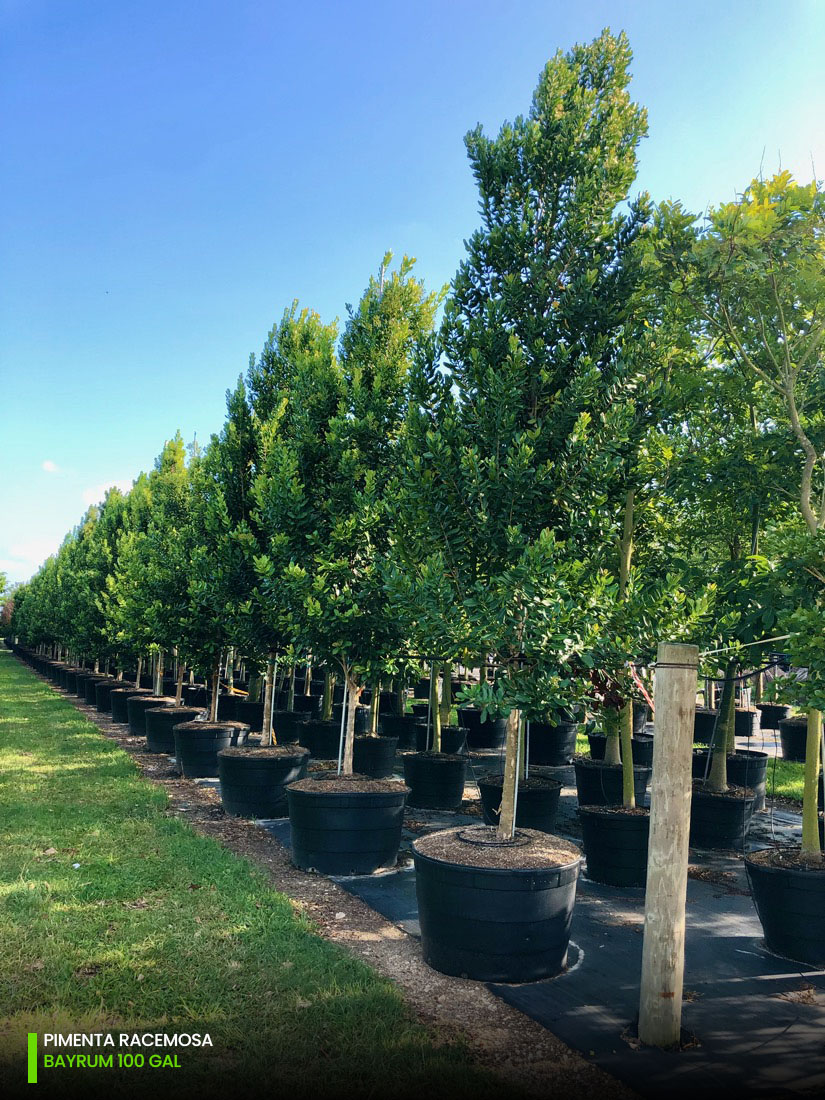 It is certainly a great addition to narrow spaces, poolside areas, and defining areas when arranged in clusters. Best if grown with multiple trunks, and branching to the ground to achieve the most density.
The magical and charmer the Bayrum hedge has it all: outstanding foliage, density, texture, and aroma. If you need insight into the average specifications of this tree and the sizes, we manage please check out our specification chart.
Calophyllum
But if your project requires to cover extensive areas, volume is what you're looking for! And for that, we have a top choice as well the Calophyllum Brasiliensis otherwise known as the Brazil Beauty leaf. With a broad growth habit and a dense round crown that adds to its fuller appearance. This full sun lover displays a set of leathery dark glossy green leaves. That from time to time flush in tints of red with the appearance of new leaves, spiking its appearance. Although it doesn't have a pronounced flowering habit it does timidly show inflorescences that are 3 to 4 inches long. Which transform into numerous aromatic white blooms about 1/2 inch wide. Adding magic and allure to this tree perfect for various landscape applications.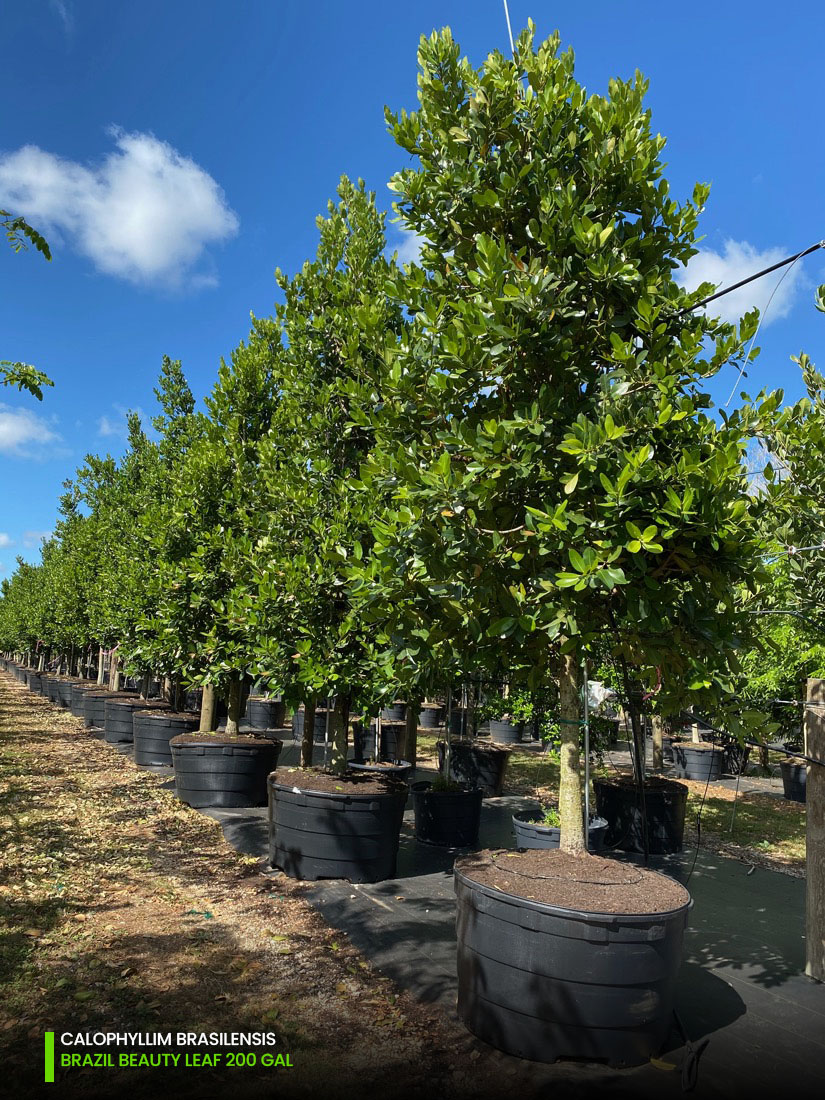 Furthermore, if you want to better insight into the specifications and sizes of the Calophyllum Brasiliensis  please check out our chart.
Mix and Match
But if you want both for your next project, there is no need to be shy! One of the most trending practices now is to mix and match to have the best outcome. At TreeWorld we encourage you to think outside of the box. That is why we highly suggest building the perfect privacy hedge by using the structure and stiffness of the Bayrum and adding volume and space with the Calophyllum. Besides as they have different shades of green converge it will create an exciting result!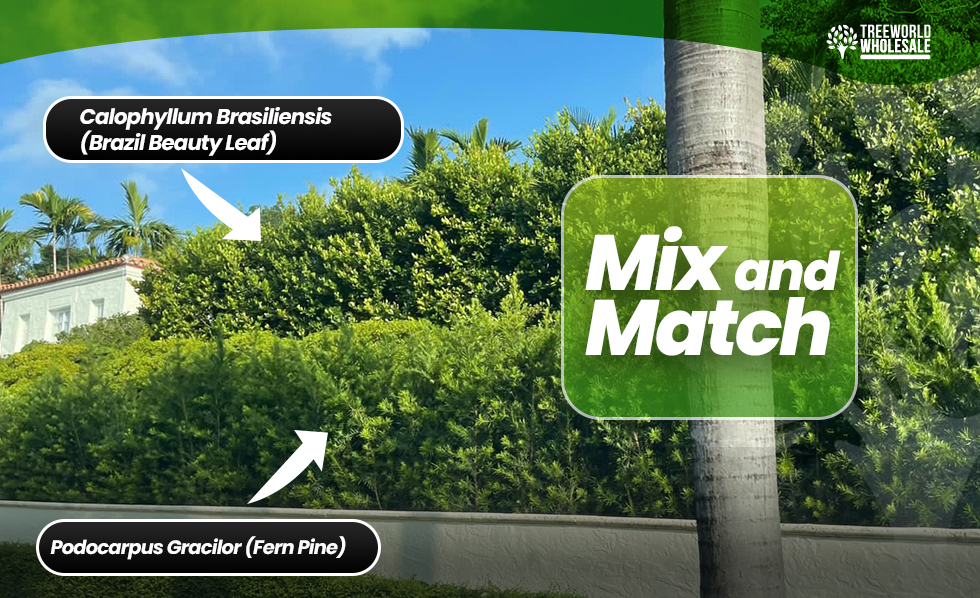 Other varieties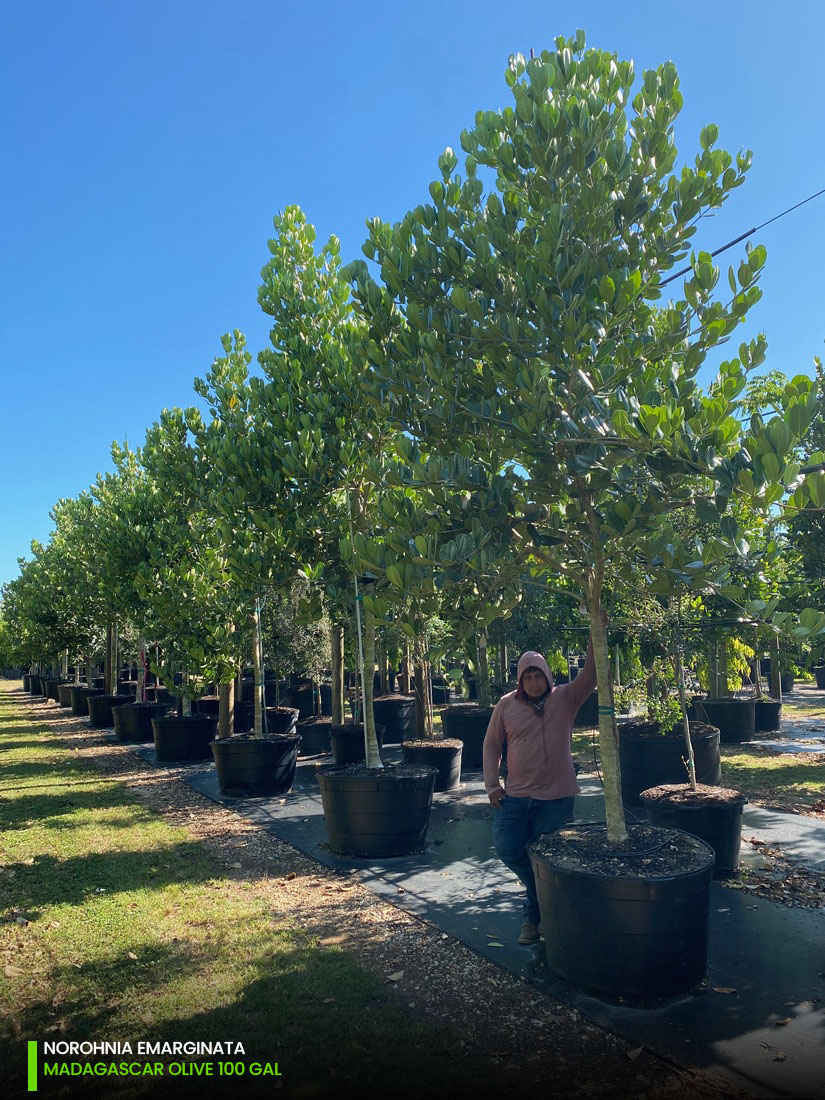 Other trees we recommend looking into as we certainly have other options to explore when it comes to planting material that adds volume such as the Cinnamon Bark (Canella Winterana), and Crabwood (Gymnanthes Lucida), Norohnia Emarginata, etc. While Simpson Stopper (Myrcianthes Fragans) makes another top choice when it comes to columnar habit.

Texture
Coarse vs. Fine
Finally, or the last take on this edition is texture! And the importance of including it or the lack of it when it comes to building the perfect privacy hedge. As you all may know texture is an element of design that provides variety adds interest and of course creates a contrast to a landscape. Texture can either be coarse or fine.
Fine
If we are talking about the texture that is perceived as 'fine.' Generating a homogeneous visual impact, looking for deep lines in colors, leaf shapes, and shades of green. Some of the best plants for this task are the Eugenias, which flaunt their dense foliage but at the same time are easy to maintain. Its leaves are always knit together, they manage a visual illusion that allows continuity.
Some of the eugenia species that you may find at TreeWorld Wholesale include the White Stopper (Eugenia Axiliaris), Red Stopper (Eugenia Rhombea), Spanish Stopper (Eugenia Foetida), Simpson Stopper (Myrcianthes Fragans) and Redberry Stopper. All native to Florida, small, attractive evergreen, and easy to maintain. Top choices when it comes to selecting plant material for privacy hedges.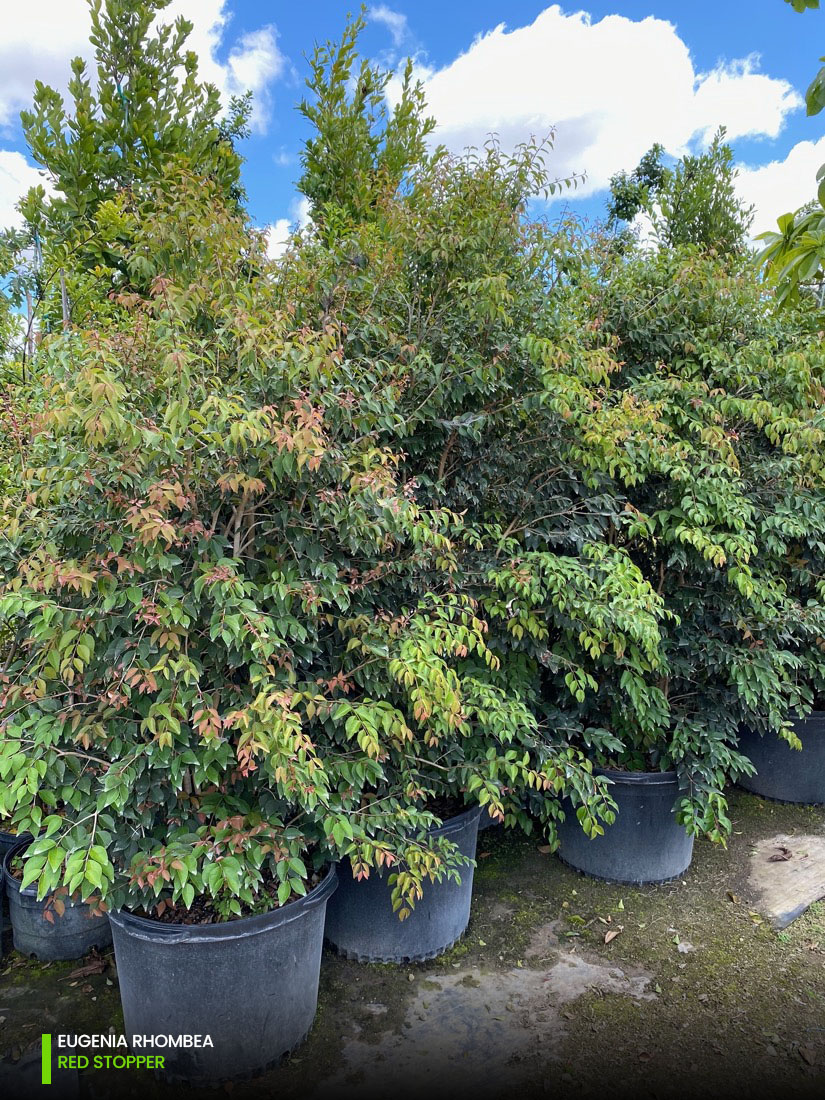 Coarse
Now when we are talking about coarse, we are talking of elements that break and provide variety into the lines of the design. Many elements such as foliage, flowers, bark, and the overall branching pattern. A good example of this kind of visual element is the exfoliating bark of the already mentioned Bayrum tree. But other species such as the Jamaican Caper (Capparis Cynophallophora) feature small leathery leaves that highlight the aromatic colorful flowers. Borne on twig ends, initially white but with time turn pink or violet. This kind of subtle element can come a long way when it comes to breaking visual homogeneity and adding color to the project.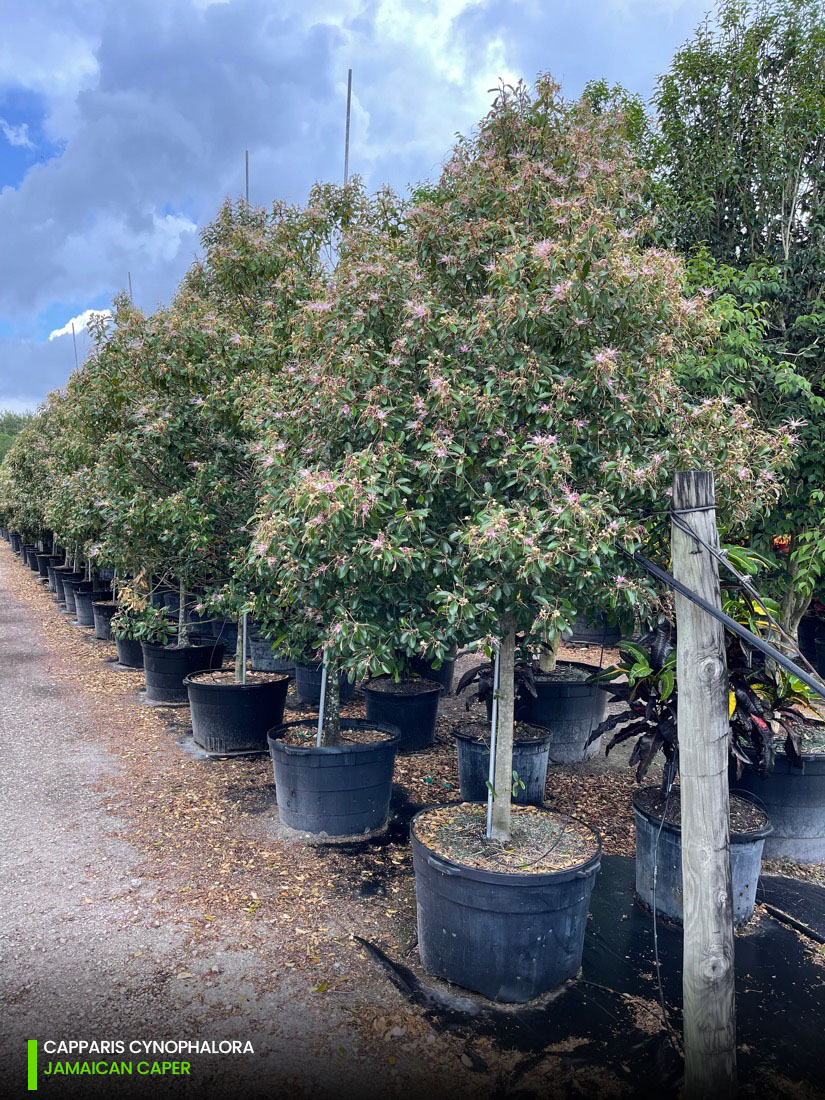 TreeWorld Availability
Privacy hedges and their role in landscaping have grown quite a lot proving to be a really important element. The reason why we have quite an extensive portfolio of bushes that can suit the needs of your project! If you need an assessment or want more information on the subject, please contact us!