There is nothing subtle about the Guaiacum (Guaiacum Officinale and the Guaiacum Sanctum) and as a matter of fact; they are perhaps some of the most delightful trees, a complete classical beauty. And is that although trends are great classics transcend and remain timeless. That is why both tree varieties mark a tone when it comes to landscaping, with their beautiful blue blooms that spread profusely like starry night into the canopy and gracefully court bees and butterflies. Made of strong wood and beautiful shiny foliage the Guaiacum Officinale and the Guaiacum Sanctum are exceptional landscape additions.
The Guaiacum's
But before we do, we must talk about their nature. Starting with that they are both tropical evergreen members of the Zygophyllaceae. And the only two in its specie which produces the authentic 'lignum vitae' otherwise known as the 'Guaiac' a natural resin; is extracted from the wood. This is a colorless compound that slowly turns blue when it comes to contact with other substances. As a matter of fact, a lot of medicinal uses were attributed to this compound and carry in nature the origin of its common name. At least for the Officinale, that comes from medieval Latin epithets that denote the use of organisms which where mainly plants for medicinal purposes.
Another interesting fact about the Guaiacum (Guaiacum Officinale and the Guaiacum Sanctum) is that is strongly related to no other than the Bulnesia Arborea, with beautiful yellow to golden blooms most known as the Verawood Tree.
Now, to continue with our idea and focus more on its applications in the landscaping area, we want to highlight their attributes:
Guaiacum Officinale 'Tree of Life'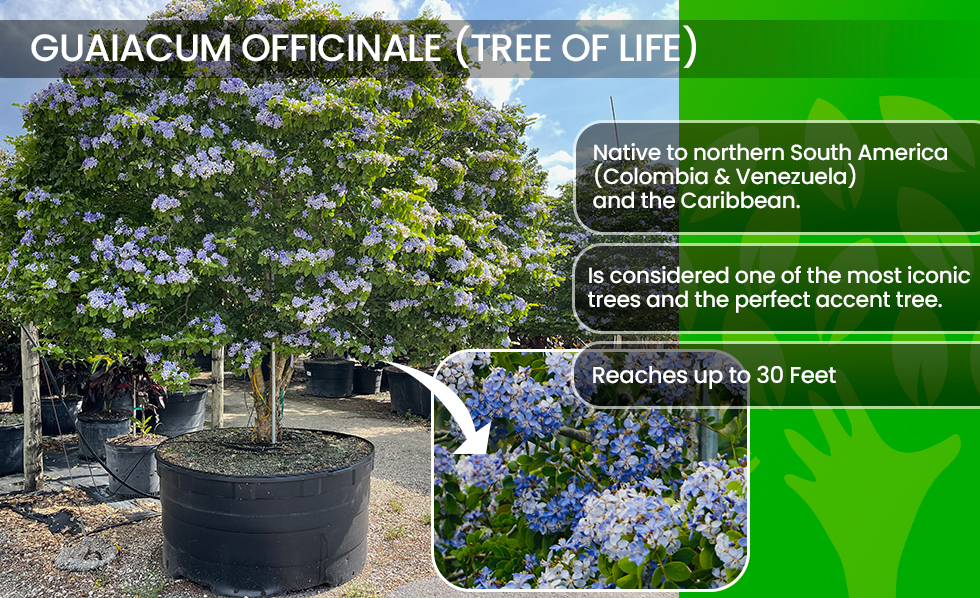 Starting with our tropical beauty the Guaiacum officinale, native to northern South America (Colombia & Venezuela) and the Caribbean. The Officinale which is best known as the 'tree of life,' falls under one of the most breathtaking trees. With closely-knit foliage of shiny yellow to green compound, small leaves (1 to 1.5 by .75 inches) appear interwoven in sets of 2 -3 by the stemless leaflets. Foliage only becomes more compelling by the distinctive round shape that 'Tree of Life' forms with the help of its flat-bottomed.
Furthermore, the most bewitching blue blooms tend to cover up the shiny leathery foliage of the Guaiacum Officinale; illuminating what by its form was already a masterpiece. Borne in clusters at branch ends of 5 petals, dressed in a lovely deep blue which fades with time into paler tones providing striking variegation of color and the ultimate piece for any landscape project.
Empowering and gracious, the Guaiacum Officinale is one of the most iconic trees and the perfect accent tree. Creating thanks to its breathtaking beauty the perfect focal point in any landscape design. As true artists may say it adds the finishing touch! As it takes into its nature to stand out from the crowd.
Guaiacum Sanctum 'Florida Lignum Vitae'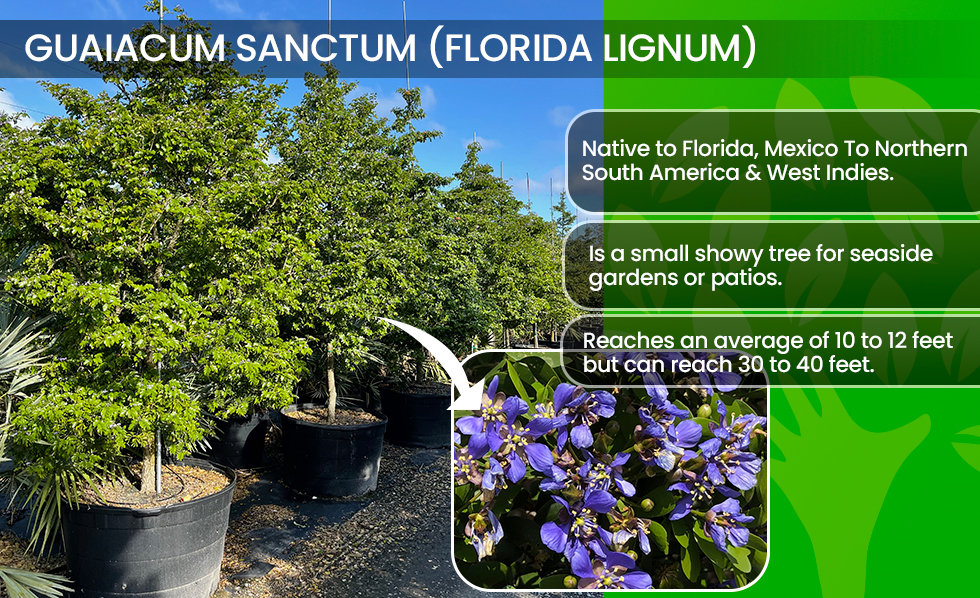 Close along the lines the native a lovely, Guaiacum Sanctum also known as the Florida lignum vitae. In the category of small tree or shrub, this lovely specimen normally reaches an average of 10 to 12 feet; but can reach 30 to 40 feet. With a multitrunk growing habit that can be trained into a tree form with proper pruning, differentiates in shape from the Officinale, by its drooping branches. That helps establish a more organic natural form than the structural round one of the Tree of Life. Furthermore, the leaves are leathery dark green, setting its tone apart by a few shades from its relative.
Flowers, which are both exceptional and very showy are borne also in clusters at branch ends. Blooming in springtime, the five-petal flower is deep blue, and about 1 inch in diameter that persists on the tree for some time.
As far applications go for landscaping uses concerning the Guaiacum Sanctum (Florida lignum vitae) are quite extensive. It is an ideal small showy tree for seaside gardens or patios, it also makes a great accent, and it is the perfect addition for native gardens. Also, it can be used to define pathways, great to mark entrances and highlight special places in your upcoming landscape project.
The Choice of the Project
Now, for the endless discussion about the Guaiacum resides in which one to take and what are their main differences? For us, both are extremely beautiful and a great acquisition for any landscape plan. Naturally the main differences or reasons you'll like to include them in your project.
So, we've decided to break it down into a short recap. One is from the Caribbean (Guaiacum Officinale) and the other is native (Guaiacum Sanctum). They're both full sun lovers and produce the most daunting blue to lavender blooms.
The average height for the tree of life (Officinale) is up to 30 feet while the Florida lignum's average height is up to 12 feet; but on ideal conditions it has reached up to 30 – 40 ft but is not the average. Both are evergreen and display lush green foliage. Although the Guaiacum Officinale's is a little bit brighter with a yellow hue on it while de Guaiacum Sanctum plays with darker tones.
Frankly, the tie break, resides in the application, as one is a more structural tree while the other adds volume. Generally, the Guaiacum Officinale is the perfect centerpiece while the Guaiacum Sanctum with droopy branches makes a great grouping; perfect for framing boundaries and highlighting spaces.
TreeWorld Availability
At TreeWorld we are certain that any landscape project can use the addition of these classical beauties. As they are perhaps one of the most exceptional and complete varieties. We carry them from sizes of 25 gallons up to 300 gallons on our tree farms!
Guaiacum Officinale – Tree of Life
Guaiacum Sanctum – Florida Lignum Vitae
For further detail on the sizes we carry and specifications. Don't forget to check their specifications chart for Guaiacum Officinale and the Guaiacum Sanctum.  Contact us if you need assistance in your upcoming landscape project!