-Blooming Alert-
We can officially mark spring in our calendars, as March 20 (spring equinox) approaches; and although Florida is not known for its season. There is definitely something special about Spring. For many this season is a synonym for resilience, beauty, and new opportunities. As it is It is the moment when we hatch, bloom, and stand proud because there is life and color. Blooming season has arrived!
Blooming is something we really need right now as the world is going through some difficult times; but setting politics aside we are here to focus on nature. Next our top bloomers for 2022, Spring flowering edition:
Pink Cassia (Cassia Bakeriana)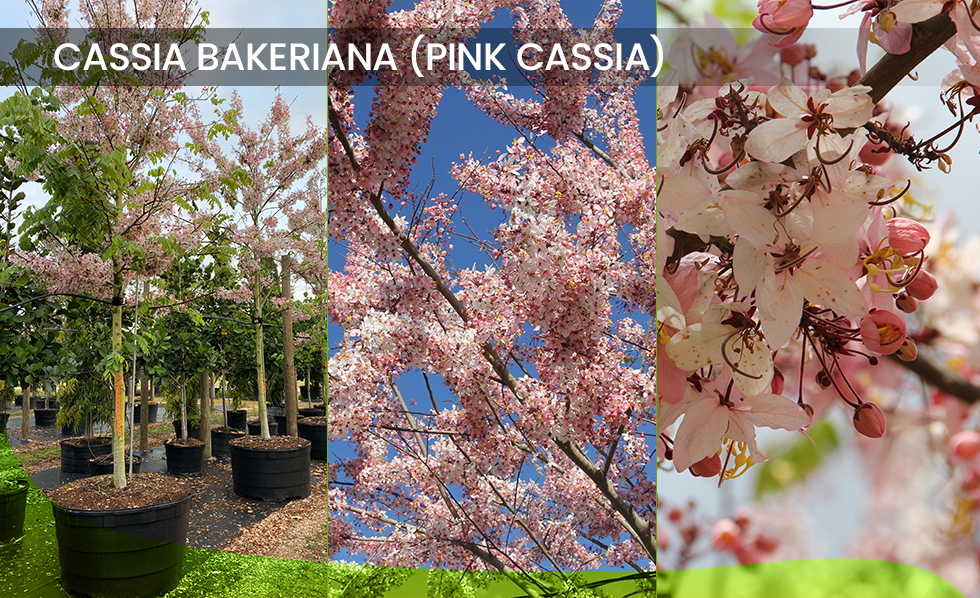 Perfect in pink! The pink shower cassia (Cassia Bakeriana) is like a fairytale vision, as this semi-deciduous tree has already dropped is leaves as prelude of one of the most stunning displays of fragrant pink-purple flowers with yellow stamens. Building up in long drooping racemes (4-10"), these large and showy blooms have a 2-inch stem with 3 long extended stamens. Native to Myanmar, Thailand this tree is not only alluring on its own, but it also attracts butterflies creating the perfect spring flowering scene.
Furthermore, other aspects to have in mind if you're considering the pink shower cassia (Cassia Bakeriana) for your project is that it is a full-sun lover, of a fast growth rate and a wide canopy. A great performer in the South Florida and the Caribbean climate. Find it at TreeWorld in 25, 45, 65, 100, 200 and 300 gallons.
Other Cassia trees that may interest you: Cassia Fistula, Cassia Grandis, Cassia X Nealie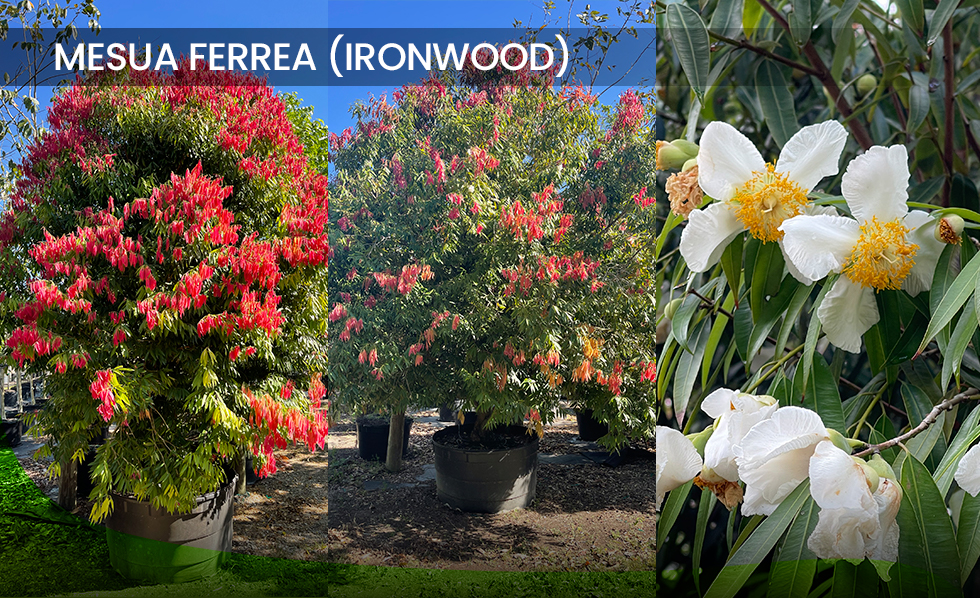 Graceful, beautiful and with an indisputable foliage! Our next spring bloomer is one of a kind. With its droopy green-grayish foliage that shows off tints of pink to red with new flush. This evergreen beauty also features some striking large fragrant white petal flowers with yellow stamens, measuring around 1 1/2 to 3 inches wide. Just perfect as it most certainly makes an interesting addition to any landscape project. Adding color, texture and beautiful blooms.
A fun fact about this tree is that aside from being a great ornamental tree the ironwood is also prized for its wood as it's known too very heavy, hard, and strong. Earning his common name of Ironwood.
Golden trumpet (Handroanthus)
Next on the list could be no other than the Golden Trumpet Tree (Handroantus chrysotricha)! Formerly known as the Tabebuia. Making a grand entrance, as this deciduous tree drops all leaves only to ensure the most graceful and vibrant spectacle of golden trumpet shape blooms. But this is not the only Handroanthus (Tabebuia) that is in bloom right now as the Purple Trumpet tree (Handroanthus Impetiginosa) and the Pink Trumpet Tree (Handroanthus Heterophylla) are starting to show their colors as well!
So, if you're on the query for a spring flowering favorite, the Handroanthus genus has a wide selection. At TreeWorld Wholesale as we've got a wide variety to choose from, including: Handroanthus Bahamensis (white tabebuia), Handroanthus Caraiba/Argentea (Yellow Trumpet), and Handroanthus Roseoalba (White Ipe)
Purple Glory Tree (Tibouchina Granulosa)
Did you know that many associate the color purple with royalty, creativity and grandeur? As it is said to be the perfect combination of the calm stability of blue and the fierce energy of red. And perhaps this is what makes the Purple Glory Tree (Tibouchina Granulosa) so distinguished. Either if it's grown as small tree or a sprawling shrub this full-sun lover is really captivating. With its irregular crown and somewhat shaggy but lovely appearance; featuring the dark green ribbed leaves that only make the majestic 2-inch-wide flowers stand out eve more. Attracting butterflies and birds.
Peregrina (Jatropha Integerrima)
Of course, red couldn't miss the beat! This exciting color has its own representation in this short spring blooming selection with the Peregrina (Jatropha Integerrima). This evergreen beauty, with eye-catching glossy bronze foliage. And the most stunning bright scarlet to vermillion color blooms, that measure 1 inch wide; quite breathtaking and resemble stars. Making this tree a perfect addition!
BONUS
Senna Surattensis (Cassia surattensis)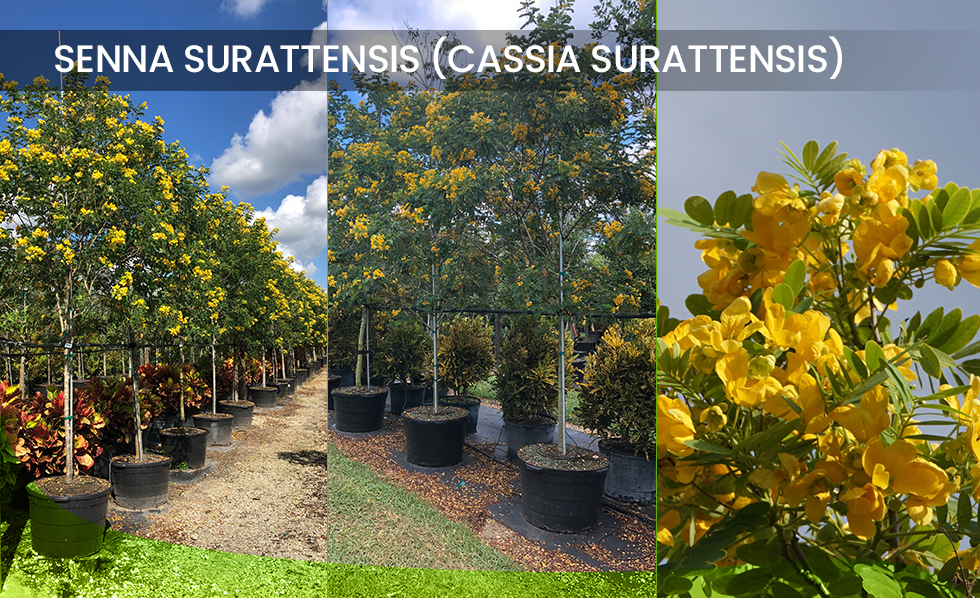 Straight from the pacific (Asia & Australia) but performing great in South Florida and the Caribbean! The Senna surattensis (Cassia surattensis) is a complete sensation as it blooms on a year-round basis guaranteeing tons on color. Flowers are borne in upright clusters at branch ends tend to cover the wide canopy of this small tree. With 1-1 1/2 inches wide yellow-blooms that burst into life in the most vibrant way! Attracting bees and butterflies. Other blooming sennas in the spring are the senna polyphylla and the senna Mexicana.
TreeWorld Availability
Remember with over 300+ varieties including a wide range of trees, shrubs and palms you can find at TreeWorld just about anything you're looking for your next landscape project. So, contact us and let us know how can we help you!