One of the greatest pleasures and the responsibilities of my job is loading and supervising the tree material selection for each landscaping job.  Since one of the reasons I started in this business is to contribute to the 'path' of magnificent specimens for all landscaping jobs we are associated with…..
On this occasion, we got to load a beautiful 200-gallon Pithecellobium Arboreum best known as Lorito or Cojaba tree. Some 65-gallon Indian Mast's (Polyalthia Longifolia) nature's own obelisk.  A dazzling 100-gallon Queen Crape Myrtle (Lagerstroemia Speciosa). And a vivid crimson flowering 65-gallon weeping bottle brush (Callistemon Viminalis). Certainly this selection  will add character to the landscape they are bound to!
A special thanks to our friends Europath for confiding us to team up on their job. We hope to receive soon feedback of their destination!
More on the Selection…
Lorito Tree (Pithecellobium Arboreum)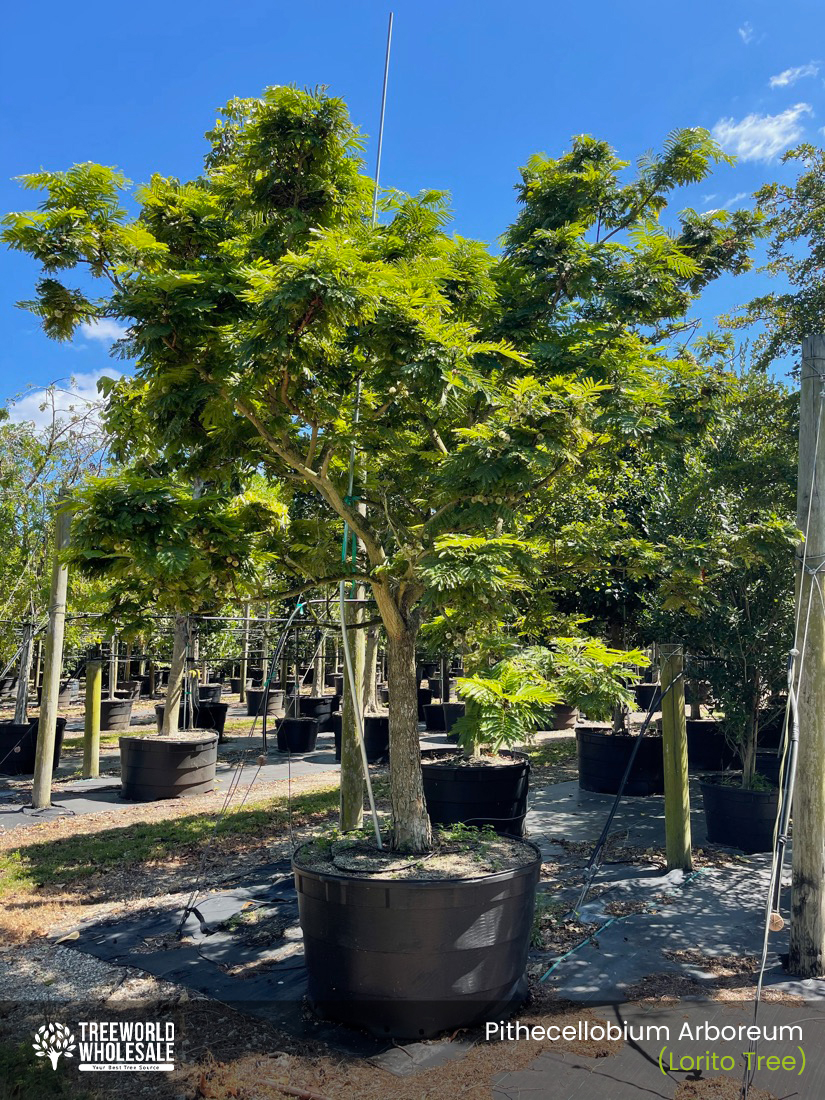 Pithecellobium Arboreum (Lorito Tree) is an evergreen, typically growing to 45 feet or more; it has a thick trunk with dark brown to reddish, smooth or scaly bark. Additionally, the crown is round, wide, spreading and moderately dense. And the young branches are lightly hairy, becoming smooth with age.
Furthermore, leaves are green, alternate, bipinnate, 4 1/2 – 6 1/2 inches long, with 8-16 pairs of primary leaflets, each 1 1/2 – 4 inches long and each in turn with 20-40 pairs of small, delicate, fern-like, smooth secondary leaflets. Flowers are borne in hanging clusters on stems 2 – 4 inches long; blooms are small, shape as a pea, symmetrical, white with hints of green and inconspicuous. Accordingly fruits are also borne in clusters as hard swirl shape pods, reddish-purple, 5 – 7 inches long, and compressed between the 3 – 10 ellipsoidal seeds.
And as for landscape applications is not only a great ornamental tree, but is top choice for shade!
Indian Mast (Polyalthia Longifolia)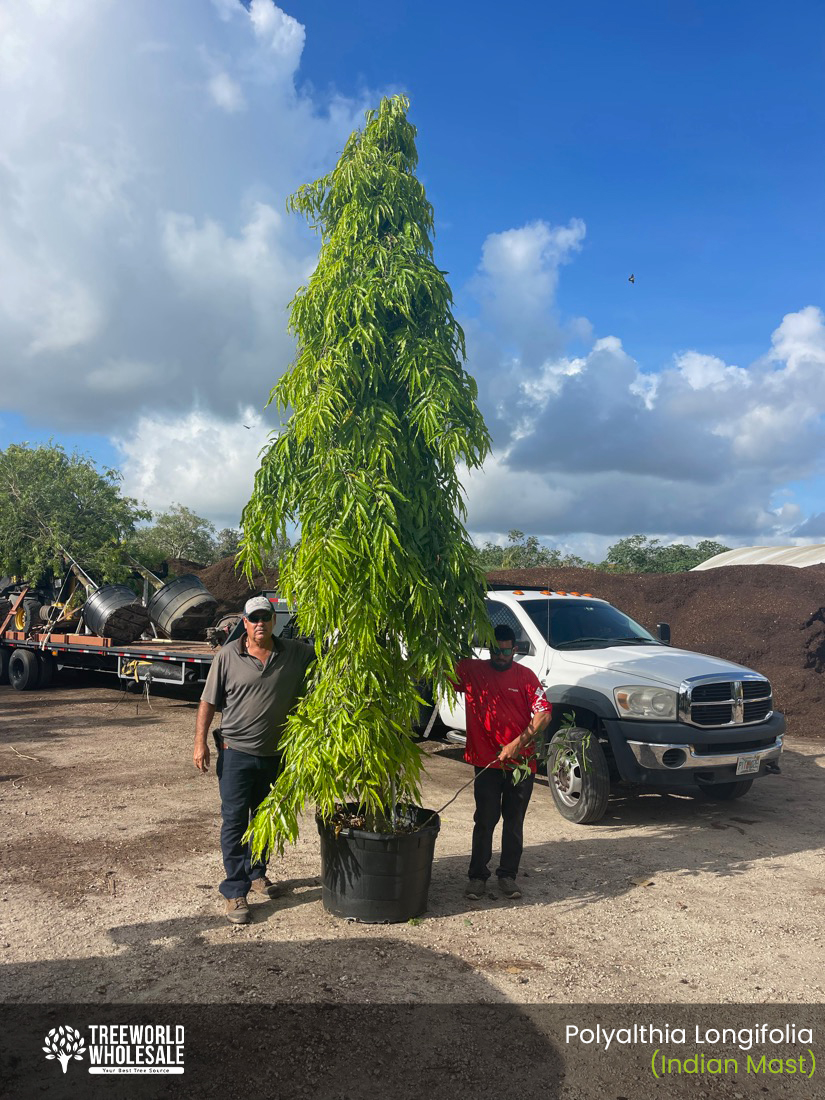 Polyalthia Longifolia (Indian Mast) tree is one of the most distinctive and attractive subtropical and tropical ornamental trees; it is native to india and Sri Lanka and it has been widely disbursed as a striking landscape tree.
It is, tall, narrow, columnar and  evergreen tree with willowy drooping branches, which bears long narrow leaves about 8 inches in length and light to dark green in color. Additionally the pale green, star-shape unfragrant flowers numbering 10-20 are borne in clusters in spring. Also, mature fruits are ovoid, black and resemble a small olive fruit; a popular bird food. They contain a single seed which can be used for propagation.
Queen crape-myrtle (Lagerstroemia Speciosa)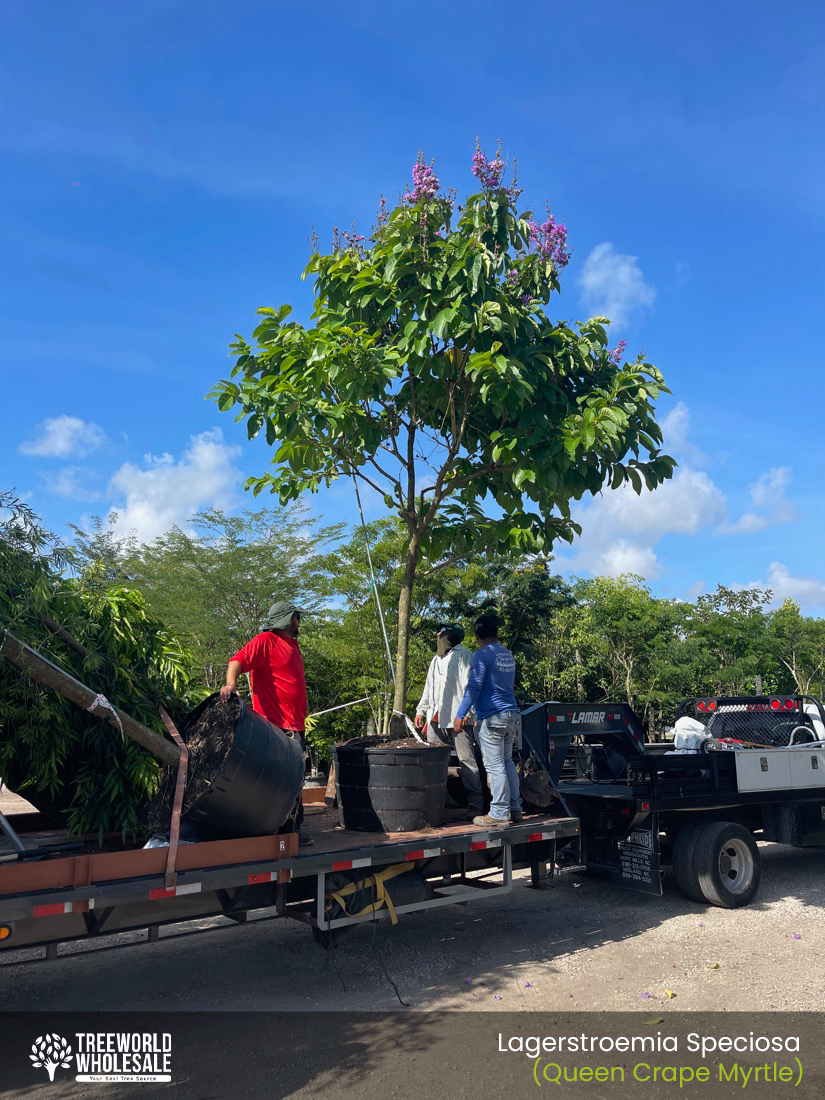 Lagerstroemia Speciosa (Queen crape-myrtle) closely resembles the tuscarora tree (see description). Yet, the Queen Crape is a larger tree which can reach a height of 60 feet with a spread of up to 40 feet.
Additionally, in cultivation the tree is typically smaller. It also has an upright, dense, rounded crown. The bark is an attractive gray color, smooth and flaky. The leaves are green, leathery, deciduous, opposite or sub-opposite, oval to elliptical and 4 to 12 inches long. Leaves are shed in winter after turning a red color; in the spring when the tree is leafless flowering occurs.
Additionally, flowers are borne on foot-long inflorescences of large 2 – 3 inch wide showy blooms, pink to lavender in color. Fruits are dry, hard brown round oval capsules 1 – 2 inches long: seeds and cuttings are for propagation.  The wood is durable and used in construction.  It is frost sensitive, otherwise very urban tolerant.
With over 300+ tree varieties ready for your landscape project today, we are your best tree source! contact us @ 305-245-6886 or visit our tree farms in Homestead, Florida