The ultimate addition to your Landscape Project (Pimenta Racemosa)

When you think of building a perfect yard, privacy immediately comes to mind!  And hedges are the perfect solution. They are one of the most important elements when designing a project, as they have the ability to transform spaces. Such as gardens, yards, and sidewalks, into an oasis of peace. By blocking unwanted wanderers, but also significantly reducing noise and pollution.
And trending right now in South Florida and the Caribbean, one of our all-time favorites is the Bayrum (Pimenta Racemosa)!  Due to its outstanding foliage, density, texture, and aroma, it is one of the top choices.
Different ways to use the Bayrum tree for privacy hedges
Now, considering that normally when you design your landscape project, you need to consider a few things and a few areas to cover. So, moving forward we've made a quick recap on 4 different ways to use the Bayrum tree to make your landscape stand out!
1. Front Yard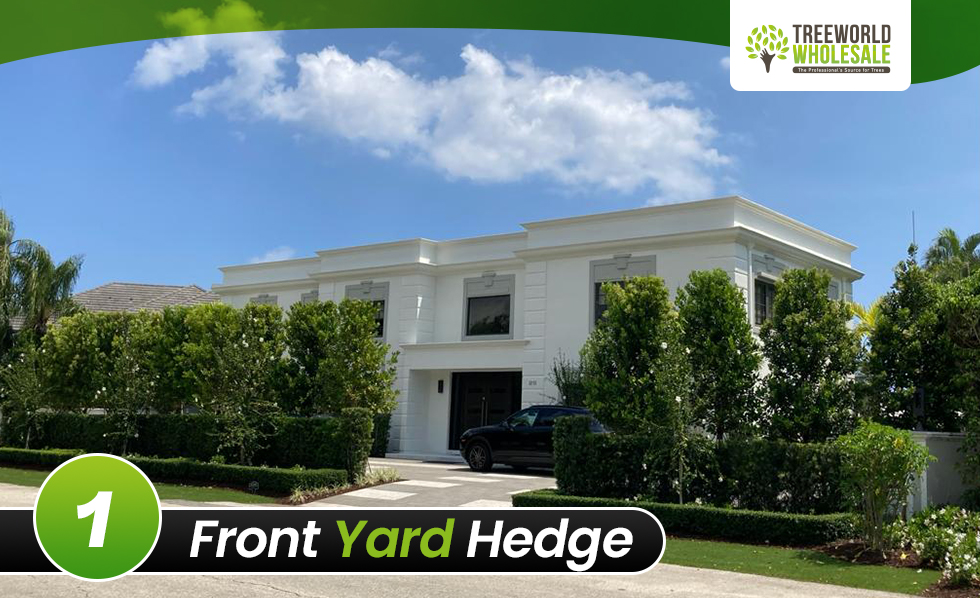 First, let's dive into the front of the house! We are talking about the front yard and its immediate requirement for privacy and aesthetics. And a great way to accomplish the objective is by creating an alternating heights hedge. With a taller tree positioned back, and a shorter one in front. Creating a welcoming volume visual effect. That will not only result in a beautiful property value.
2. Pool side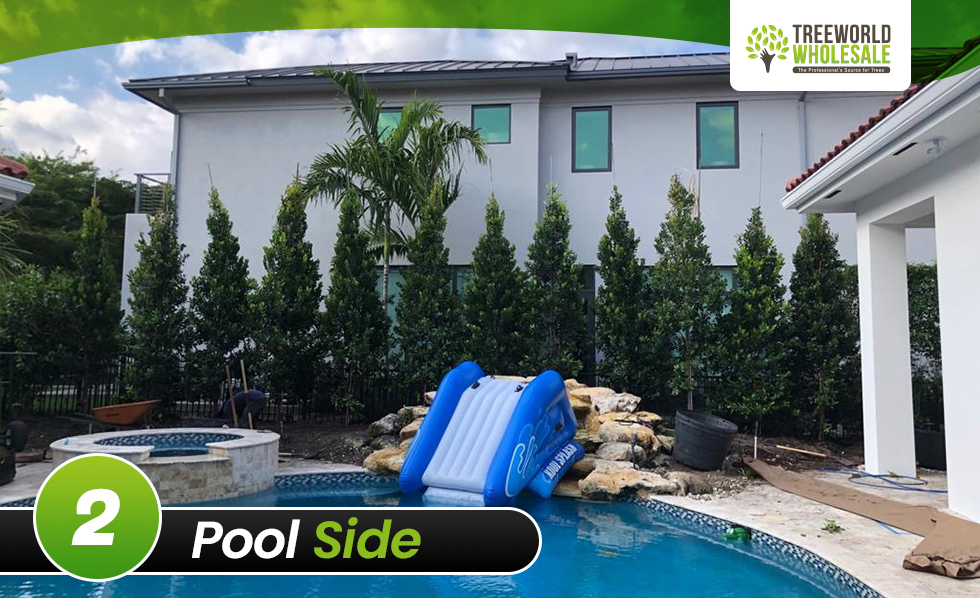 What's a pool paradise without plants? And being in South Florida we know swimming pools are one of the most important places in the house that require privacy screens. Being so, it is important to include evergreens such as Pimenta Racemosa (Bayrum Tree) in the landscape. Offering multiple benefits to the area and your backyard experience!  Such as the display of outstanding green foliage, ensuring safety from unwanted eyes, and helping to cool down the area. Not to mention that they are low maintenance, and don't have a litter problem.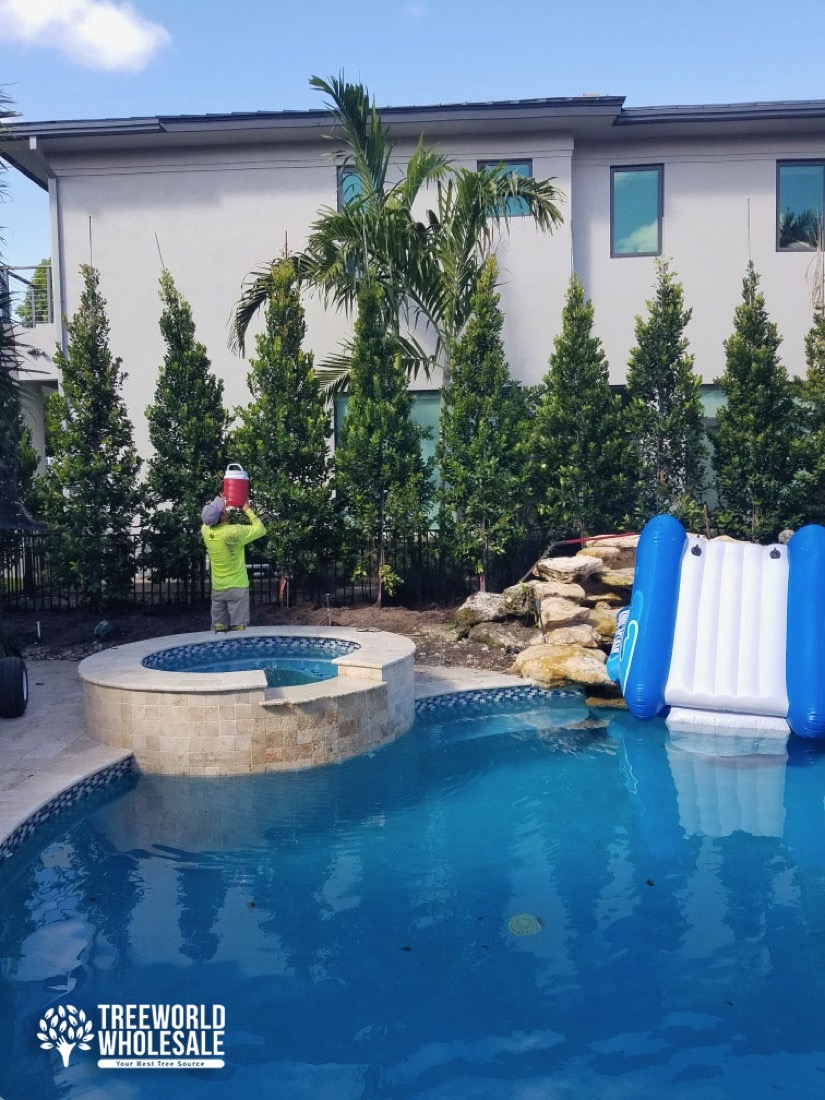 3. Backyard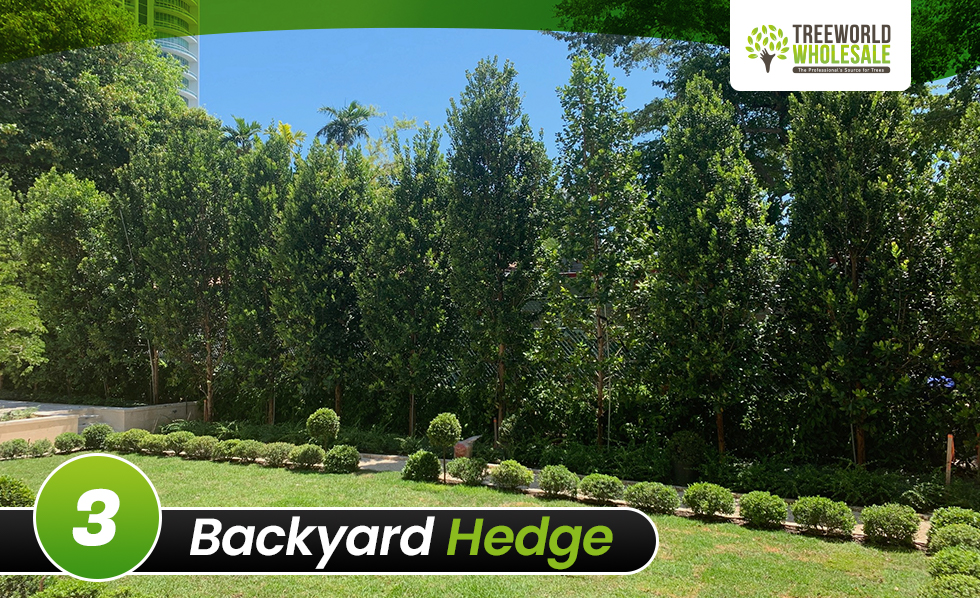 Continuing with one of the most popular options is the backyard. There is an important area to cover when designing the space and selecting the tree material to include.  Bayrum trees (Pimenta Racemosa) area is a great option as their dense foliage will help reduce noise from the surrounding areas and block the view from unwanted guests. But aside from that, the aesthetics will surprise you, as there is no dull moment with the Bayrum Tree!  With outstanding leathery foliage that will balance out the unique exfoliating bark. And its aromatic leaves expel a refreshing citrusy aroma, accompanied by white delicate, and fluffy fragrant flowers.
4. Side Yard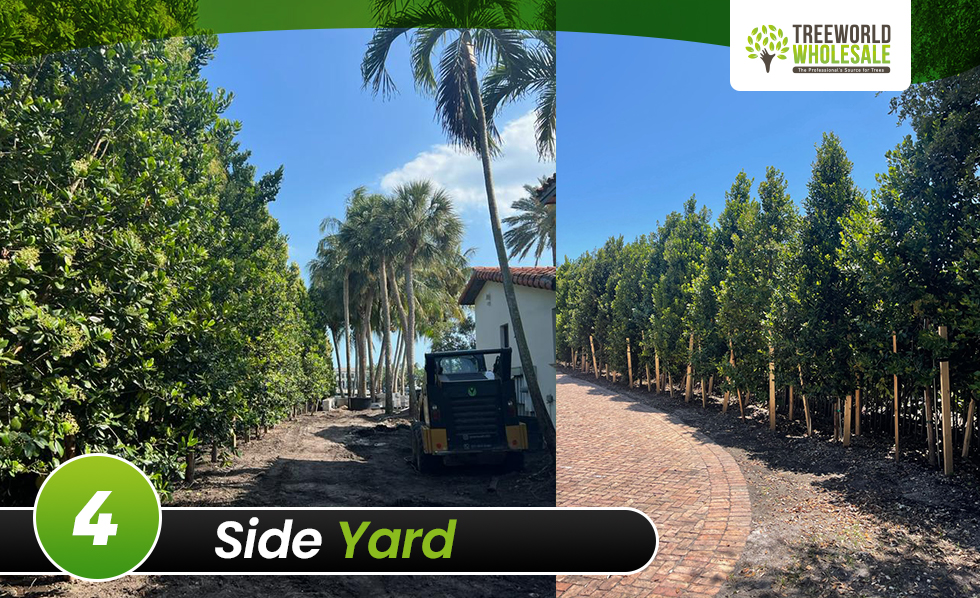 Finally, the side yard is an important area to cover when designing space. The reason why selecting the tree material to include is very important. As when you design a privacy hedge from the next-door neighbor, it's important to consider the space. And the Bayrum Tree with its columnar growth habit fits perfectly in narrow spaces. Including this hedge will not only bring privacy, but it will work as a pathway that stands out in your design.
Why Bayrum Trees (Pimenta Racemosa) makes great Privacy hedges:
Now, something that we cannot deny is that the Bayrum Hedge has it all: Outstanding foliage, density, texture, and aroma; just a few characteristics that come to mind when we talk about this delightful tree. For no other reason has it gained such a prized position in the landscape industry; cataloged as alluring magical and versatile.
At TreeWorld we manage sizes from 25 gallons to 300 of Bayrum for your upcoming project; both in a shrub or single trunk form. If you want a better insight of the specifications, please check out our chart
Other Species for privacy hedges  you might want to consider
Finally,  credits as all images above are collaborations we did with following companies: