-Landscaping for hard winds-
As we established before living in Florida and the Caribbean is like living in paradise! Climate is great, sunshine almost 365 days a year, and the privilege of being near the ocean there is a need for windbreaks. But not everything can be easy, right? As we established in our last entry we need to think, prepare, and plan for hurricane season which is coming stronger by the year.
In our last entry, we discussed selecting the best performance trees to withstand hard winds. Today we want to focus on selecting shrubs and hedge materials that make the best windbreaks.
Windbreaks
First of all, we must say that a good windbreak is a natural strong barrier ready to withstand strong winds, dust, and sand. Protecting structures, equipment, and ornamental trees. Having or planning for a windbreak comes with a lot of benefits for your landscape project as they reduce soil erosion, filter soil or sand blown particles, act as energy conservation, provide privacy, and not less importantly they beautify the landscape.
So, jumping ahead we've selected some of the most suitable options to accomplish the task in South Florida.  Remember that a good windbreak for the area must have a high salt and drought tolerance, prefer full sun, and is best if it's densely foliated.
Best Windbreak – Tree or Shrub Material
Native, tropical sensation. The Seagrape (Coccoloba uvifera) is a great addition when it comes to coastal landscaping. With broad round leaves and a multi-trunk growing habit that makes for a great shrub. This is a medium-sized shrub, it reaches a height of 25 – 30 feet or taller. With a moderately dense crown and spreading as wide as the tree is tall. 
The sea grape loves full sun and has high drought and salt tolerance, making it perfect for the coastal areas where it is native. It grows best in moist  and well-drained soil, and it benefits from pruning. The attractive foliage, bark, flowers, and fruits make the Coccoloba Uvifera an interesting landscaping option. 
It can be grown as a tree or screening hedge as it tolerates windy conditions.
Also native to Florida is the Pigeon Plum (Coccoloba Diversifolia), which reaches an average height of 25 feet and is a medium-sized tree or shrub. With a symmetrical round to vase shape crown, that forms a nice round canopy.  Mainly thanks to its upright branches. Furthermore, it features a nice leathery dark green foliage, that blooms during spring with small but abundant whitish-green flowers.
As well as other species listed in this entry, this tree is also high drought and salt tolerant and resistant to hard winds. A perfect match to the coastline. 
Not far away from the sea grape and the Pigeon Plum, the Sea Plum. An artificial hybrid from crossing pigeon plum (c. diversifolia) and sea grape (c. Uvifera). Which is also presumed to have occurred in Florida. It reaches around 6 to 8 feet and features a round dense crown.
It's great for hedges or small groupings in coastal areas. It not only withstands hard winds, but it also tolerates salty conditions and loves the full sun.  
A Florida favorite, Florida native! This small tree or shrub is naturally an understory plant of hammocks. Growing up 15 to 20 feet it has a crown of moderate density, loves the full sun, and is highly drought and salt tolerant. Establishing well in sandy, clayey, or salty soils. Making it a perfect windbreak choice. As this versatile and low-maintenance tree will not only protect the landscape but will add charm and color (red hue) to the mix. 
This small to medium evergreen tree, or shrub, grows in the coastal hammock of South Florida as well. It typically reaches 10-25 feet tall, and it develops a narrow-round crown. That features dense foliage of shiny dark-green leaves about 4 inches long. And naturally, it also has high drought and salt tolerance. Making it a perfect match to form buffers or hedges for the Florida landscape.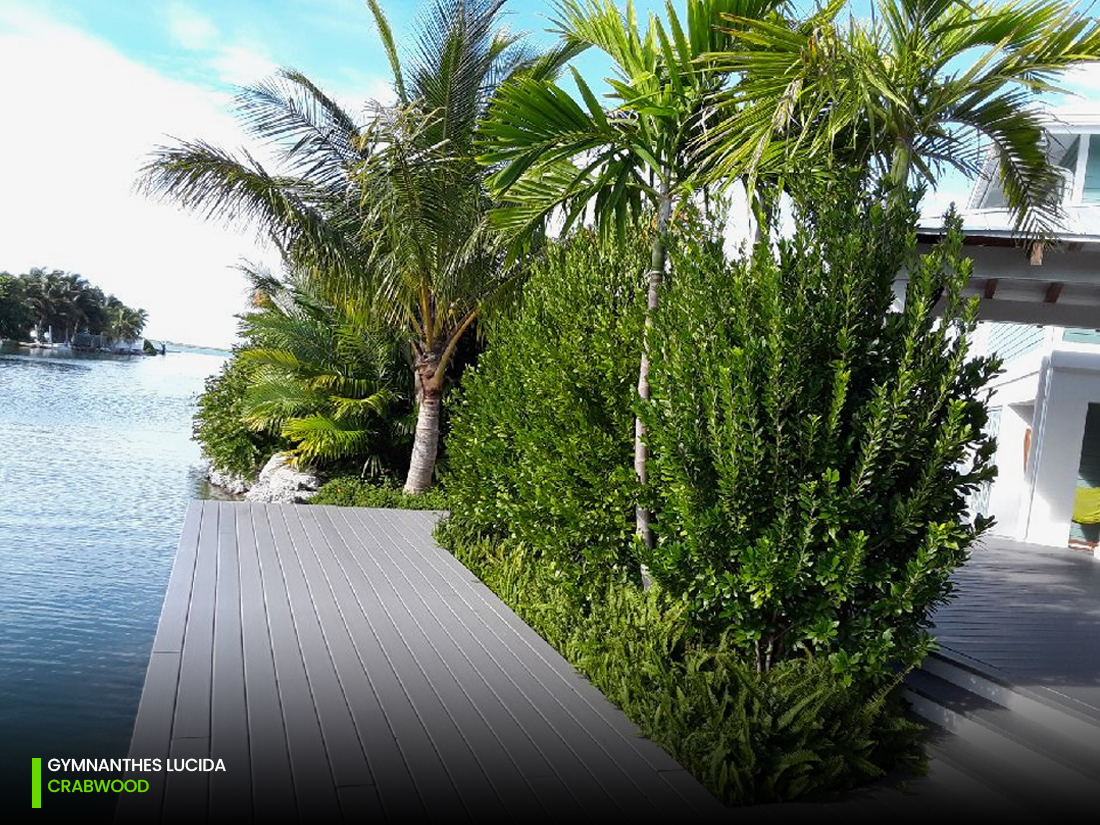 One of our top sellers is the Caribbean native Bayrum (Pimenta Racemosa)! That can be grown either as a tree or as a bush. Considered medium size (12-36 feet in height) with a dense crown that features dark green, leathery leaves. The Bayrum tree is strong, and wind-resistant, making the requirements of a perfect Florida shield.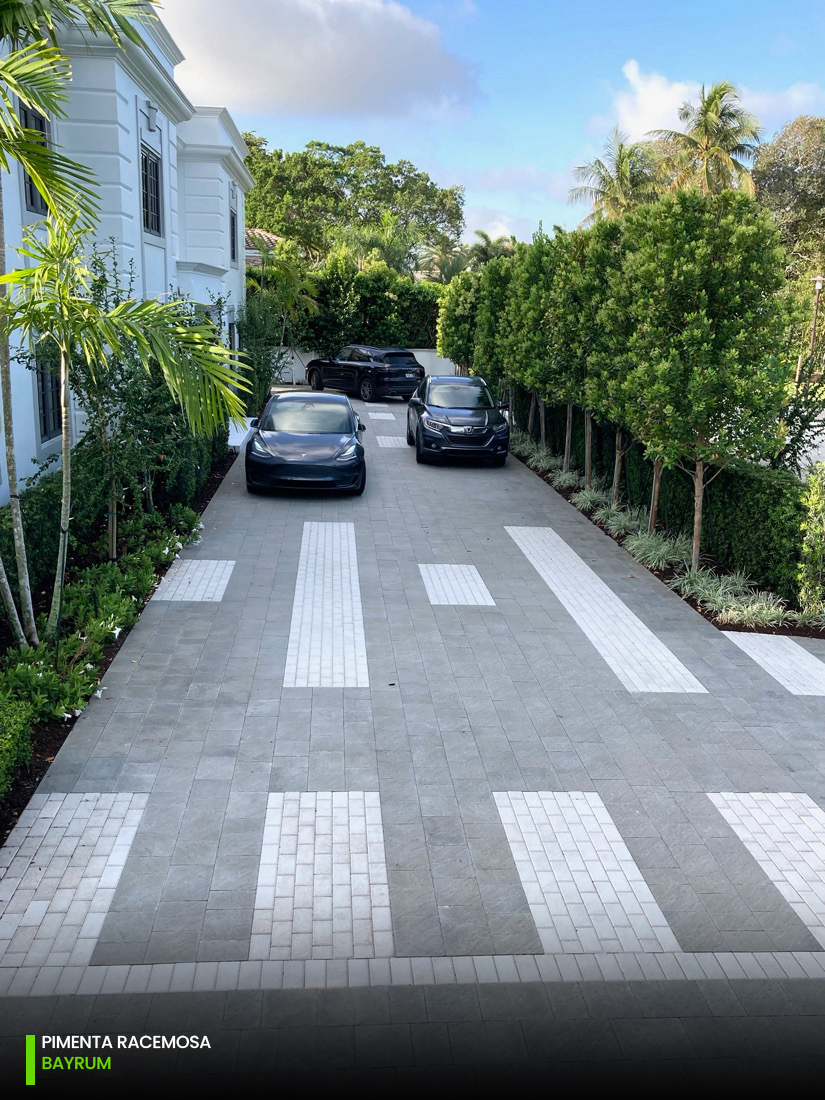 Besides landscaping, it makes a great backyard tree, and street tree, but is also suited for open public spaces. And recently in south Florida is one of the trending choices to create screens of natural privacy hedges and of course windbreaks. Grown with multiple trunks and branching to the ground to achieve the most density.
The Canella Winterana (Cinnamon bark) is a Florida Native small tree or bush that takes its name from the spicy fragrance of its crushed leaves! This small shrubby tree reaches 15 feet in height and has a straight trunk that with age develops a dense crown. With dark leathery small green leaves and mildly fragrant blooms of red petals and yellow anthers. Besides blooms are rich in nectar and attract insects, including wasps.
Being a native with a dense attractive foliage, it's great for gardens, patios, along the seaside, and streets.
TreeWorld Availability 
Other wind-resistant shrubs or windbreaks you may like to consider: Simpson Stopper (Myrcianthes Fragans), Spanish Stopper (Eugenia Foetida), and Brazil Beautyleaf (Calophyllum Brasiliensis). 
Now we hope this tree selection of best-performance windbreaks can help you when choosing the right tree material for your upcoming landscape project. As we know hard winds and possible hurricanes represent a challenge when choosing the right tree materials. If you want some more insight on preparing trees for hurricane winds check out our blogs.
And if you need further assistance on the subject, please contact us! We have over 300 + varieties of native and Caribbean trees. We're your best tree source in South Florida!