There is always a moment between a big change where time seems to stand still. As if life was making sure the engraving in the memory that "split second" where you realize it can all change. And you hold on to it as the last breath.  But here in Florida and South Florida to be exact when you work in the tree business, you need to hold your breath a lot. As, when it comes down to Hurricane season with every new approach to these natural disasters, we cast our luck and wish for the best.
And as we are not trying to be dramatic, we know most trees have it in their DNA to withstand some hard winds and we have prepared ourselves for the season. We've even recently shared some of our best performance trees for hard winds in South Florida and of course what makes for a good windbreak.
Hurricane Season 2022
But as we prepared for another hit, this time in the hands of "Ian" a Hurricane category 4 to 500 miles in diameter and winds up to 150 miles per hour that entitled this natural disaster a unique destructive capacity. We know Fort Myers and Tampa received the big hit and here at Homestead, we had some hard winds and a lot of rain. So, as we count our luck we seem prepared once again for new hits. Although Hurricane "Orlene" dissipated into a tropical storm status. Hurricane season, which started slow and uneventful in august seems above average according to NOAA. As their forecast expects something in between 14 to 20 significant storms.
This feeling for us is quite big and compelling, back on October 6 of 2016 we thought the end of TreeWorld itself was imminent. But as we did back then, we repeat every season and armed with a great team to reduce impact and prepare for strong wind we placed them down and wrapped containers of each tree in plastic to help the fertilizer and soil stay in place.
Capturing our Trees
But honestly, this is not a story of our survival skills, nor a preparation for a natural disaster such as a Hurricane. This entry is meant to immortalize that moment of calm before the storm. To appreciate what in everyday life seems mundane. Highlighting not only the natural beauty of each tree, but also the work of our entire team to keep TreeWorld alive.
So, with haste and love, I dedicated myself to portraying the beauty that our trees carry. Inviting you on a tour of what shines for us, and beyond its functionality or destiny, admire its beauty as a whole.
A tour into our tree rows…
Starting from our young 25-gallon and rapidly moving up to our 500-gallon trees we praised every single detail on our tree farms.
So, starting from our 200 and 300-gallon Bayrum trees (Pimenta Racemosa) rows. We stepped fiercely and quickly to encounter our 200-gallon Lorito (Pithecellobium Arboreum). And, nearby our big native 200-gallon Southern Live Oak (Quercus Virginiana) ready to extend their branches.
Furthermore, we portrayed our Southern Silky Oak (Grevillea Robusta). A 200-gallon Silk Tree (Albizia Niopoides), and our endearing rows of 100-gallon fine embroidery Bridal veil trees.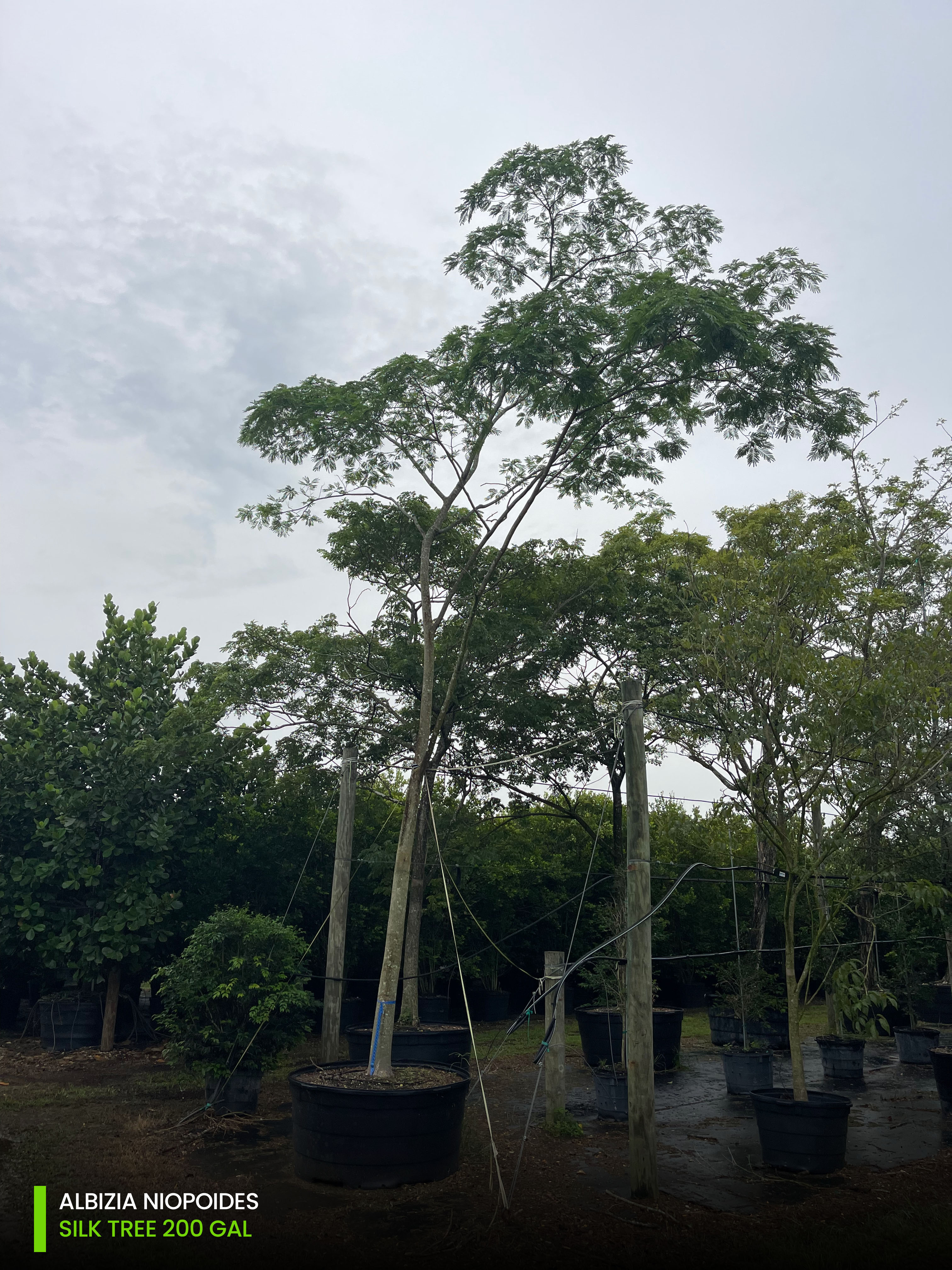 Moving on to our natives, which include Crabowood tree (Gymananthes Lucida), pineapple guava (Acca sellowina), Spicewood (Calyptranthes Pallens), Seagrape (Coccoloba Uvifera) and much more.
Not leaving behind are eternal bloomers, starting off with an all-time favorite the Guaicum Officinale. And our golden yellow Verawood tree (Bulnesia Arborea)…
We have captured more than 300 trees based on their beauty. We can't publish them all, but we invite you to scroll down and check out some more…
A call for consciousness and Global Warning
And to end this entry we must wrap up with a call to consciousness. We need to look after ourselves and our system, and we need to prevent climate change. We need to work together a great approach is planting more trees, preserving natives, and preserving us.
For a more in-depth explanation of why including trees in your homes and landscape projects here two common sense factors; in terms of removing carbon from the atmosphere are the tree's growth rate and its ultimate wood volume. Over a period of time, a rapidly growing tree takes up more carbon dioxide; over the short term than a slow-growing one. The larger a tree becomes in its volume, the more carbon it stores. All mature trees do not comprise an equal amount of carbon because of differences in wood density. Dense hardwoods contain more carbon than less dense softwoods, in terms of comparative volume.
Planting a tree provides many benefits. It contributes positively to the natural environment in terms of storing carbon. It creates habitat, produces valuable goods, and services to humanity, and satisfies a human desire for beauty in the landscape. All important steps in avoiding global warming.
Contact us
We really hope you've enjoyed the grasp of the moment! How our tree farms looked through that instant ahead of the storm.  And how we keep working for those tree rows to outlive us and serve a greater purpose.
If you are interested in some information on a specific tree, please contact us we will gladly help you! You can message us