305 Caribbean Road is bound to take you to paradise! And we will tell you why not only this new project takes place in wonderland AKA Key Biscayne. But it has also been thoughtfully planned and designed to its utmost detail.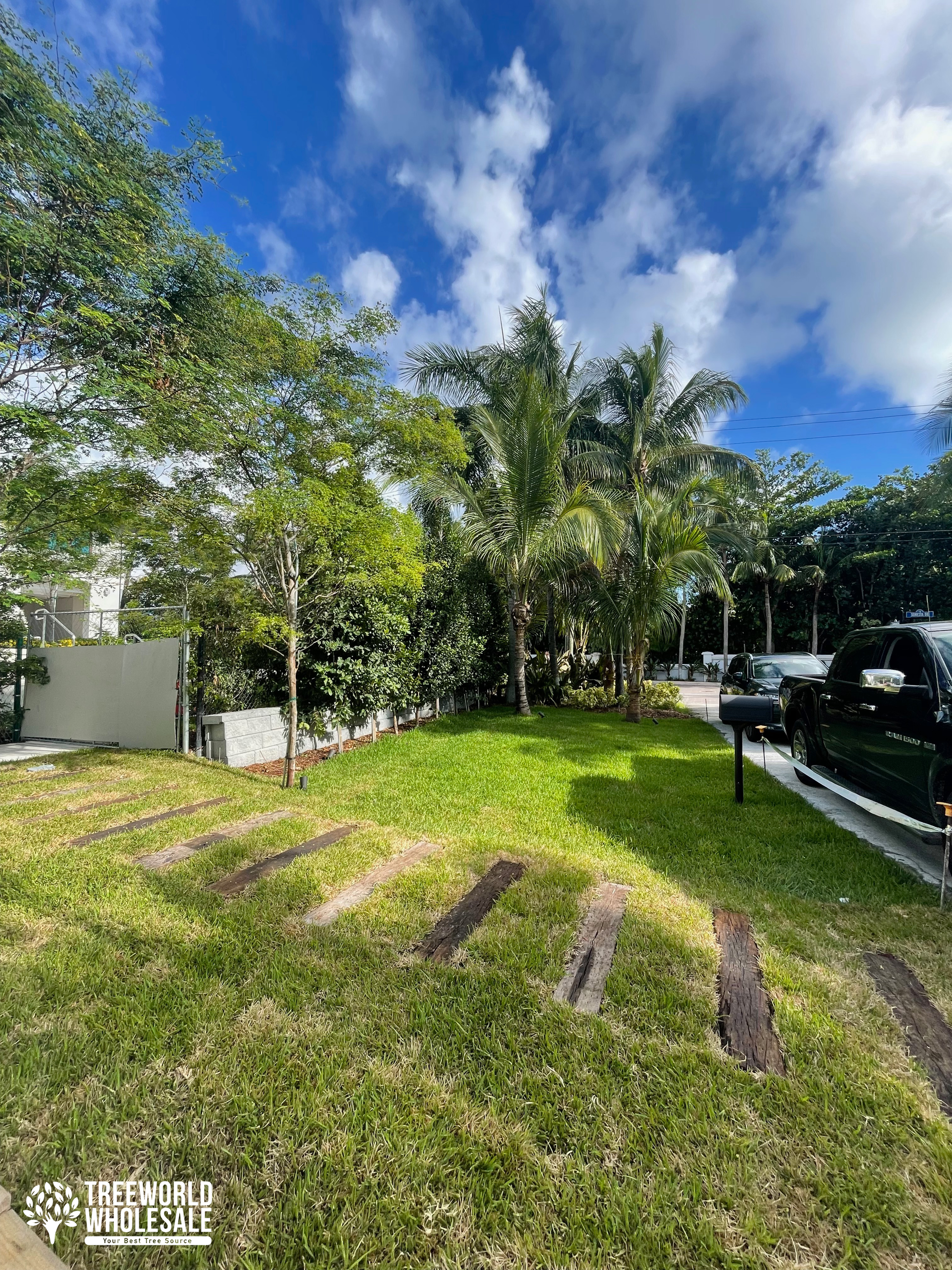 This project was led by the talented Mariana Rozvar from Rozvar Studios who teamed up with La Casona Design; both have proven to be outstanding landscape designers. Creating not only meaningful, but long-lasting designs that  provide a healthy environment that lasts for generations.
Being accurate on the subject, for something to be long-lasting it can't only be beautiful, but it must be functional. Maybe that is the premise of what makes Rozvar so great. No element was chosen randomly; instead; it was given a lot of thought.
A Bayrum Tree Hedge
So as plant material goes, we must head off with one of the most important details and elements of this landscape project. The building of a privacy hedge, for which the Bayrum Tree (Pimenta Racemosa) 45/65 gallon -in standard form to encircle the house. Ensuring green, lush foliage that will build up with interesting detail throughout the year.  Featuring white fragrant flowers, that are delicate and fluffy, which build up in the display of the small berry-like inedible fruit. And a highly ornamental peeling trunk!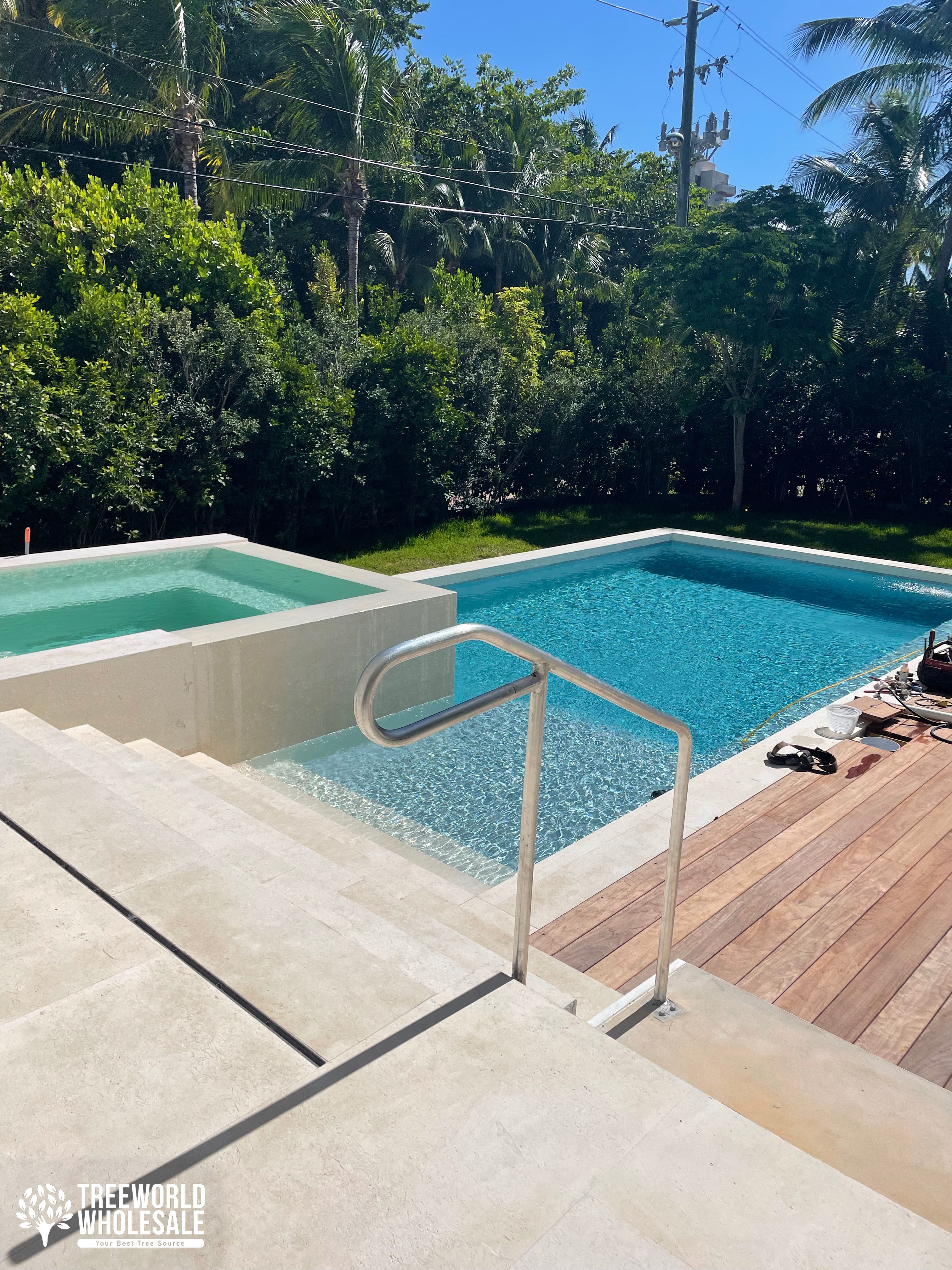 But the Bayrum tree aside from being completely stunning has proven to be a great performance tree. It can withstand hard-winds popular in the area, thrives in full sun, and can take a considerable amount of salt spray. Also, its columnar habit growth makes it a perfect fit for narrow spaces like the one beside the pool providing full privacy in these areas.
Bridaveil Trees
Moving along the project, a couple of 200-gallon Bridalveil trees (Caesalpinia Granadillo) were used in the landscape design framing the front entrance and a welcoming pool. Embellishing the premise with a moderate, fine tracery of branches grow up to an open round to vase shape crown. And features tiny, delicate leaves and small yellow blooms that fill up the canopy like little lights.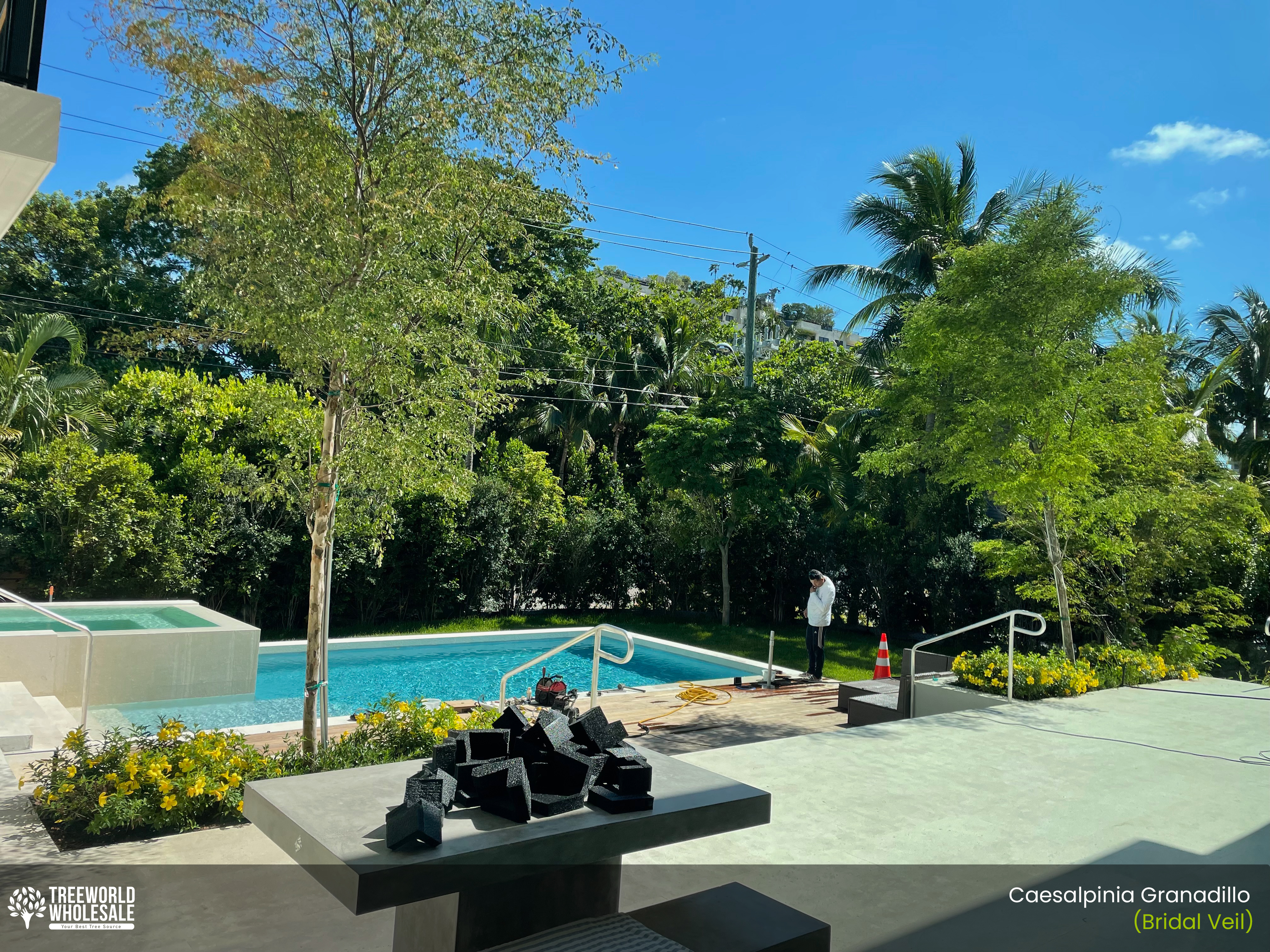 But most importantly, this evergreen tree is highly drought tolerant and enjoys full sun. Its round to vase-like canopy creates the perfect space for shade and finally, it has also proven an ideal acquisition.
A native natural vibe
Other important elements were the natives, to achieve a natural-looking design that will adapt wonderfully to the area. So, for the task, the following 45-gallon plant material selection: Simpson Stopper (Myrcianthes Fragans), Myrtle of the River (Calyptranthes Zuzygium), and Marlberry (Ardisia Escallonoides), Spicewood (Calyptranthes Pallens) and Jamaican Caper (Capparis Cynopahllora).
Thanks to their native nature, they adapt greatly to the area and natural conditions and are low maintenance!
And finally, acting centerpieces or accent trees, to draw all the attention. The lovely blue bloom "Tree of Life" (Guaiacum Officinale); is one of our finest accent trees. Alongside a gorgeous 300-gallon Lorito tree (Pithecellobeum Arbearoum) and a field-grown Coconut Tree.
Revealing a grandiose and carefully designed project with a meaningful and inclusive landscape that respects its surroundings and celebrates nature!
And naturally, we love to be part of these projects. With over 300+ varieties in our tree farms, we are most than willing to revise the best options for your next landscape project. Contact us @ 305-245-6886 "Your best tree source" in Homestead Florida