– Honoring this 4th of July the great southern native trees from our American Canopy-
When it comes to celebrating the United States, we like to dive deep into its history, to find out exactly what shaped the nation. One of the essential factors to unveil are the trees. And the role the native trees have played, evolving into landmarks.
The United States, in all its greatness, is full of life and symbols across its vast extension. So, when we talk about landmark trees, we can easily reference Boston's mighty Elms and California's giant Sequoia (the most massive trees on earth). But as we are southerners, we want to talk to those natives closer to our hearts.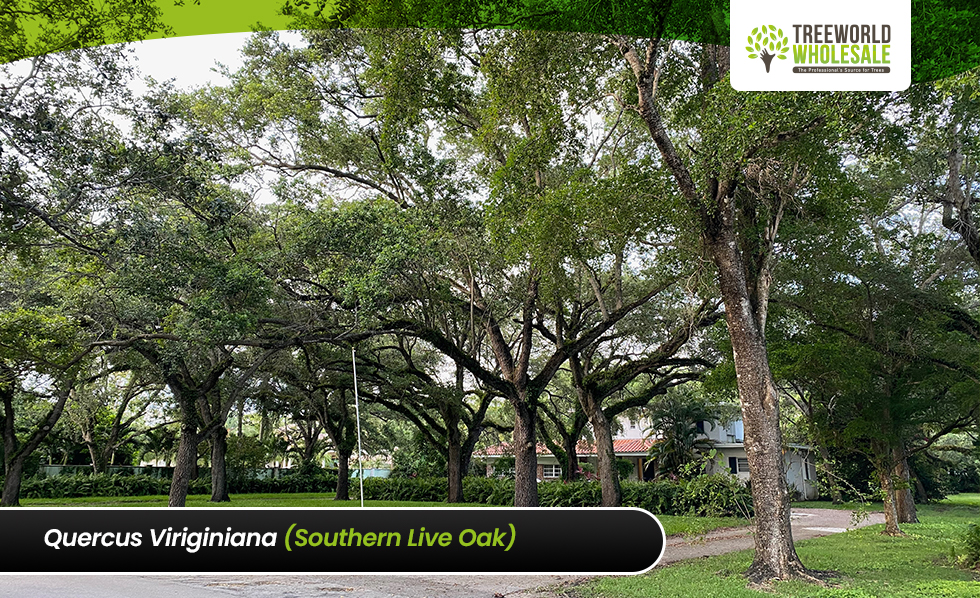 Our first southern native tree is no other than the Southern Live Oak. The large, sprawling shade tree is considered truly characteristic of the 'Old South" especially when draped by Spanish moss.
Recognized for its true character and semi-deciduous evergreen foliage. That transitions from bright olive green when young and glossy, to dark green as the tree matures. Live oak trees are common from Virginia to Florida including the Florida Keys and west to Texas. Nonetheless, the Quercus virginiana Southern Live Oak can be found as far west as California and Oregon.
Not only did this impressive long-lived tree was built up to be a signature tree of the southern plantation house. But through time it has symbolized safety, strength, and resilience. A meeting venue for many as the long arching branches have become shelter and the perfect place to agree on new ideas.
For example, during the Civil War, Mary Smith Peake taught newly freed African American men and women in the shade of the "Emancipation Oak" (Hampton Virginia), even though it was forbidden by law. And not far away in South Carolina, the "Angel Oak" (Johns Island near Charleston, South Carolina) with its large sprawling became shelter for black and white residents during segregation. This Oak is  somewhere between 300 to 400 years old.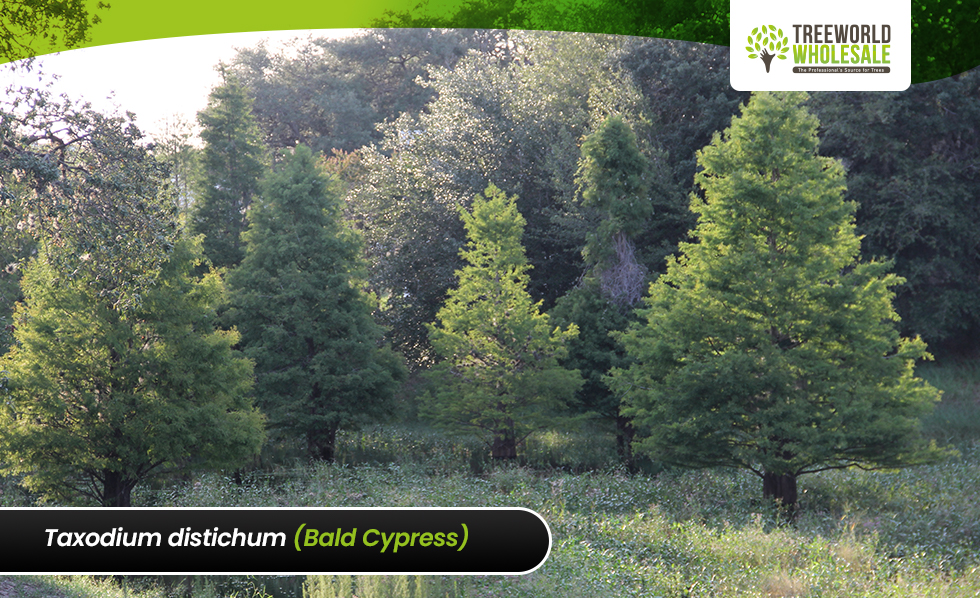 Now, further west in the United States, you'll reach Louisiana and its mythical and peaceful bayous. To be more accurate the bayous are slow-moving creeks or swampy sections of a river or a lake.
Rising tall from the murky and swampy waters you'll find the native Bald Cypress (Taxodium distichum), the state tree of Louisiana. Featuring feathery foliage, a wide and buttressed base, and an irregular crown. Dominating the southeastern wetlands from southern Delaware to eastern Texas. Becoming one of our most distinguished landmark trees; and a representative resident of the Bayou country.
Cypresses are not only outstanding and beautiful they have been around for centuries. One of the most emblematic Bald Cypress, "The Senator" in Longwood, Florida was around 3,500 years old, making it the ­fifth oldest tree species in the world. Sadly the specimen was destroyed by an unintentional fire back in 2012. But lucky for only 40 feet away from the sight stands Lady Liberty another Cypress estimated to be 2,000 years old.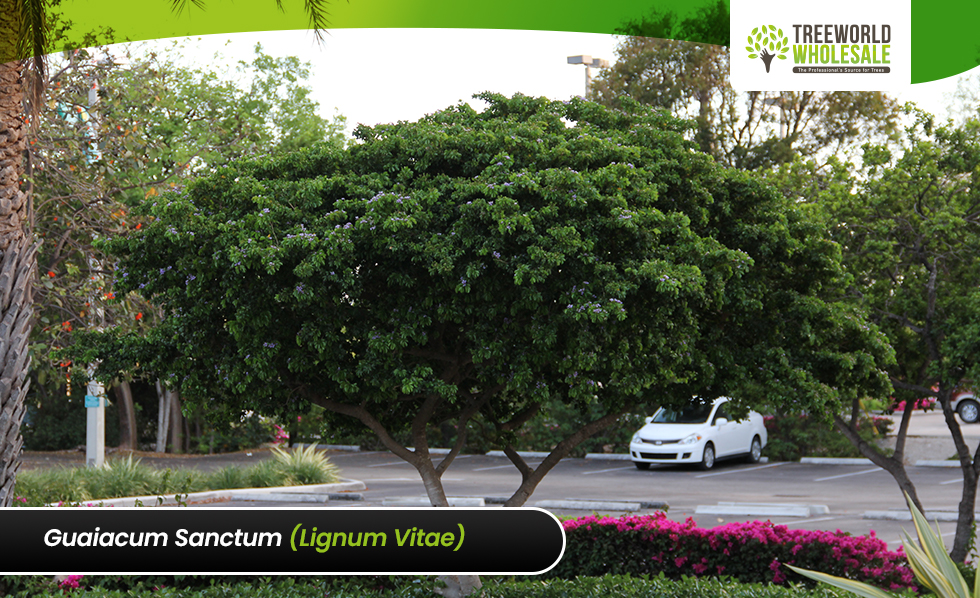 Now turning our eyes to South Florida and most exactly the keys, we want to take a moment to gush over our tree of life! Best known as the Native Lignum Vitae (Guaiacum Sanctum).
In a special place formed hundreds of thousands of years ago when the sea level was higher and Upper Keys were a living coral, Reef. But with time as we all know has fluctuated exposing parts and allowing the land, coral polyps, small animals, and vegetation to emerge. Creating larger structures that form what we now know as the islands of the Florida Keys. And within those islands is the Lignum Vitae Key Botanical State Park.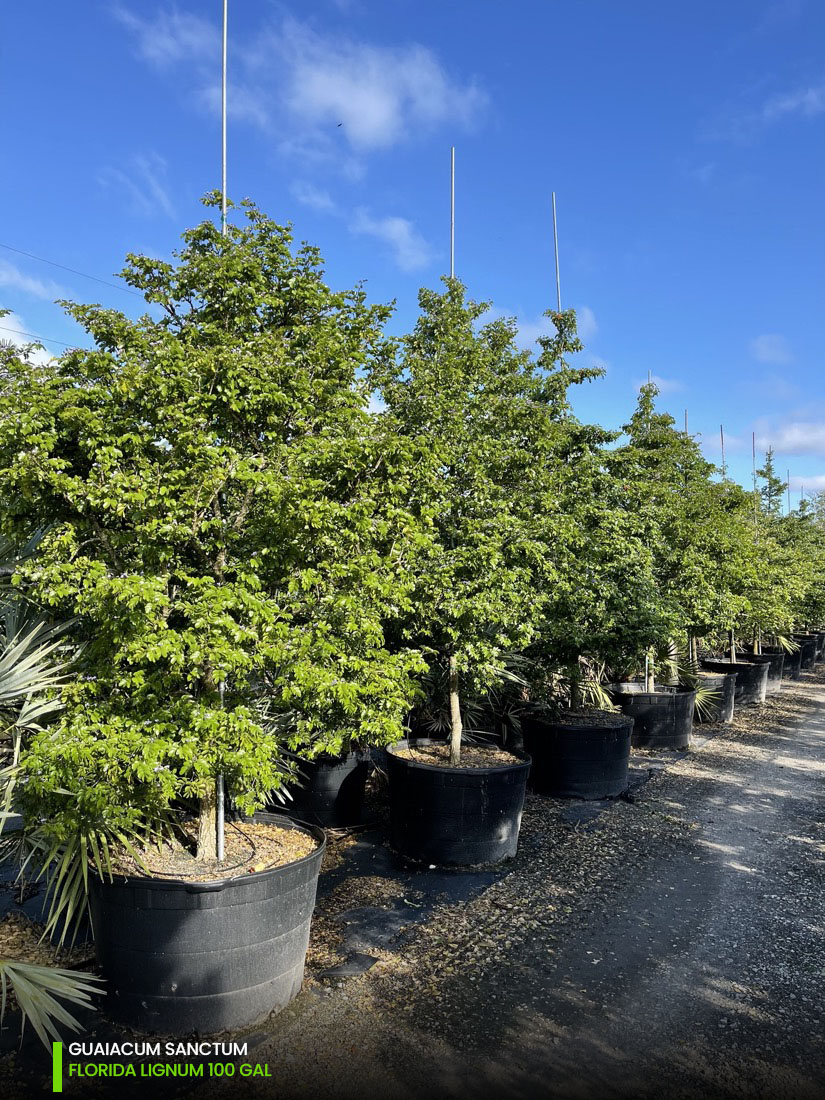 A paradise covered in hardwood hammock surrounded by deep turquoise blue water. The perfect venue to admire the small flowering multi-trunk shrubby tree with dropping branches. Which reveals not only shiny dark green leathery textured foliage but the most beautiful 1-inch-deep blue blooms.
Tropical Florida Hammock
And, perhaps it is not as tall or as long-lived as the other trees mentioned, but it is a beautiful native tree. That has earned a place in many landscaping projects and belongs to the tropical hardwood hammock. Found along both coasts of South Florida. Throughout the Everglades and the Florida Keys.
Aiding with the preservation of this tropical zone along with other native Florida trees. Such as the Crabwood (Gymnanthes Lucida), Red Stopper (Eugenia Rhombea), Cinnamon Bark (Canella Winterana), and the list goes on.
A True American Canopy of Landmark Native Trees
So, celebrating Independence Day in the United States of America is also acknowledging those actors that have paved the way for us. For us, those are the native trees that in different habitats, zones, and climates have congruently built one canopy. A canopy that belongs in the United States. That makes not only shelter, or the perfect meeting point to plan a revolutionary act. Landmark trees also teach us about history and greatness, standing vigilant for thousands of years and leading us to paradisiac sites.
Trees prove to be part of the community in ways we can even finish to appreciate. And native trees have also proven to be very important and need to be highlighted. So, in your next project! Think native with so many southern jewels there must be something that suits your needs. Even some great trees such as Mahoganies, Magnolias, and Simpson Stoppers !
If you have a specific question regarding our native inventory, please contact us!