Because Steven Tyler said it best back in 1997, "pink is my favorite color." And you can guess it we are talking about how the Pink Cassia formally known as the Cassia Bakeriana is rocking the Florida streets with it is spectacular blooms.
But before starting the obvious we must talk about how this Rockstar has continuously, year after year become one of our favorites and has earned this month's "tree of the month."
BASICS ON THE PINK CASSIA (CASSIA BAKERIANA)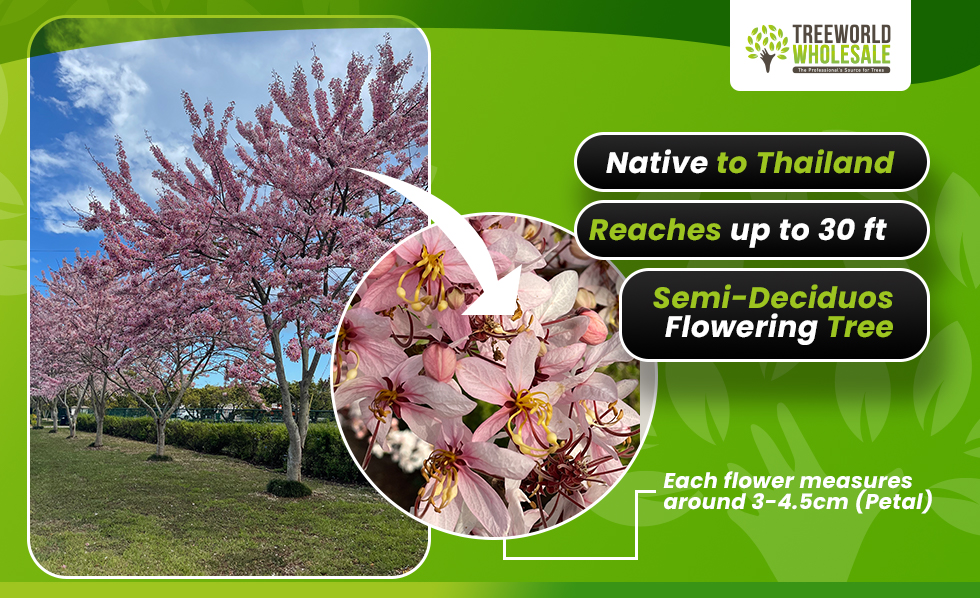 So, let's dig deep into the Pink Cassia (Cassia Bakeriana) and learn exactly what makes this tree so spectacular. Native to the northern part of Thailand, it is considered to be a small tree as it averagely measures up to 30 feet in height with a wide-spreading crown that holds the long arching branches. Achieving a perfect structure in its form, especially when it blooms as it encourages a dramatic result. We will expand further on its blooming habit along the lines of this text.
Leaves are arranged in 5-7 pairs of leaflets, with a 6 to 8 x 1.7- 2.8 cm leaf. Which are naturally rounded at both ends or with a very short tip. Bluish-green leaves are densely silky and hairy when they are young. While mature leaves have short velvety hairs below and no glands. On occasions, they measure up to 1 foot or more in length. Being a semi-deciduous flowering tree, the Pink Cassia drops all leaves just in time for spring when its flowering season commences.
With the showiest display of fragrant pink-purple flowers with yellow stamens, the Cassia Bakeriana dresses up in pink. Exhibiting upright, unbranched clusters of 10-20 cm individual stalks of pink fading to almost white blooms. Each flower measures around 3 to 4.5 (petal) cm and exhibits 3 yellow stamens in the middle. Bursting out the pink palette even more. Its spectacular spring flowering habit attracts bees and butterflies! Furthermore, flowers are followed by large bean-like seed pods. Each pod (to 16" long) has 30-40 seeds.
THE SOUTH FLORIDA LANDSCAPE & THE PINK CASSIA
Introduced about 20 years ago to the 'sunshine state.' It has slowly become one of the favorites of many landscape projects. Not only does is it a full-sun lover a perfect climate match for Florida. It's also undemanding, as its main requirements are sun exposure and soils with good drainage. In return, the Cassia Bakeriana has a fast-growing habit, a moderate drought tolerance, no known pests, and flexible branches to endure harsh winds.
LANDSCAPE APPLICATIONS
The Pink Cassia (Cassia Bakeriana) with spectacular flowering and medium-size shape tree. It makes a great avenue or street tree, specimen tree, and in public open spaces; such as civic centers (Regatta Park, Metro Zoo Miami, etc). As a street tree, we highly recommend planting them in groupings of 2 or 3 to ensure a breathtaking spectacle when blooming commences.
Also, it is a great floral addition for residential houses, making a great front yard tree to embellish the entrance or as an accent tree in the back yard.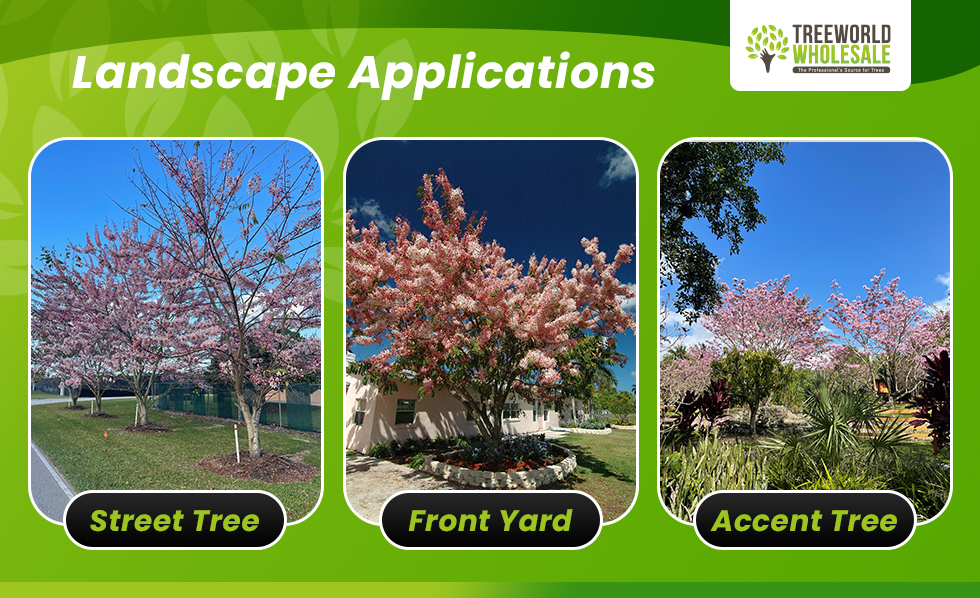 TREEWORLD AVAILABILITY
Find them at our headquarters at 25, 45, 65, 100, 200, and 300 gallons. If you're unsure of the size and specifications of the Cassia Bakeriana (Pink Cassia); check our specifications chart for more information on average sizes. If you have further questions or requests, contact us!
But finally, if you're interested in other Cassias don't forget that at Treeworld we have a wide selection of them. Such as Apple Blossom Tree (Cassia Javanica), Coral Shower Tree (Cassia Grandis), Rainbow Shower Tree (Cassia X Nealiae), Golden Shower Tree (Cassia Fistula), and Cassia Leptophylla (Gold Medallion Tree).